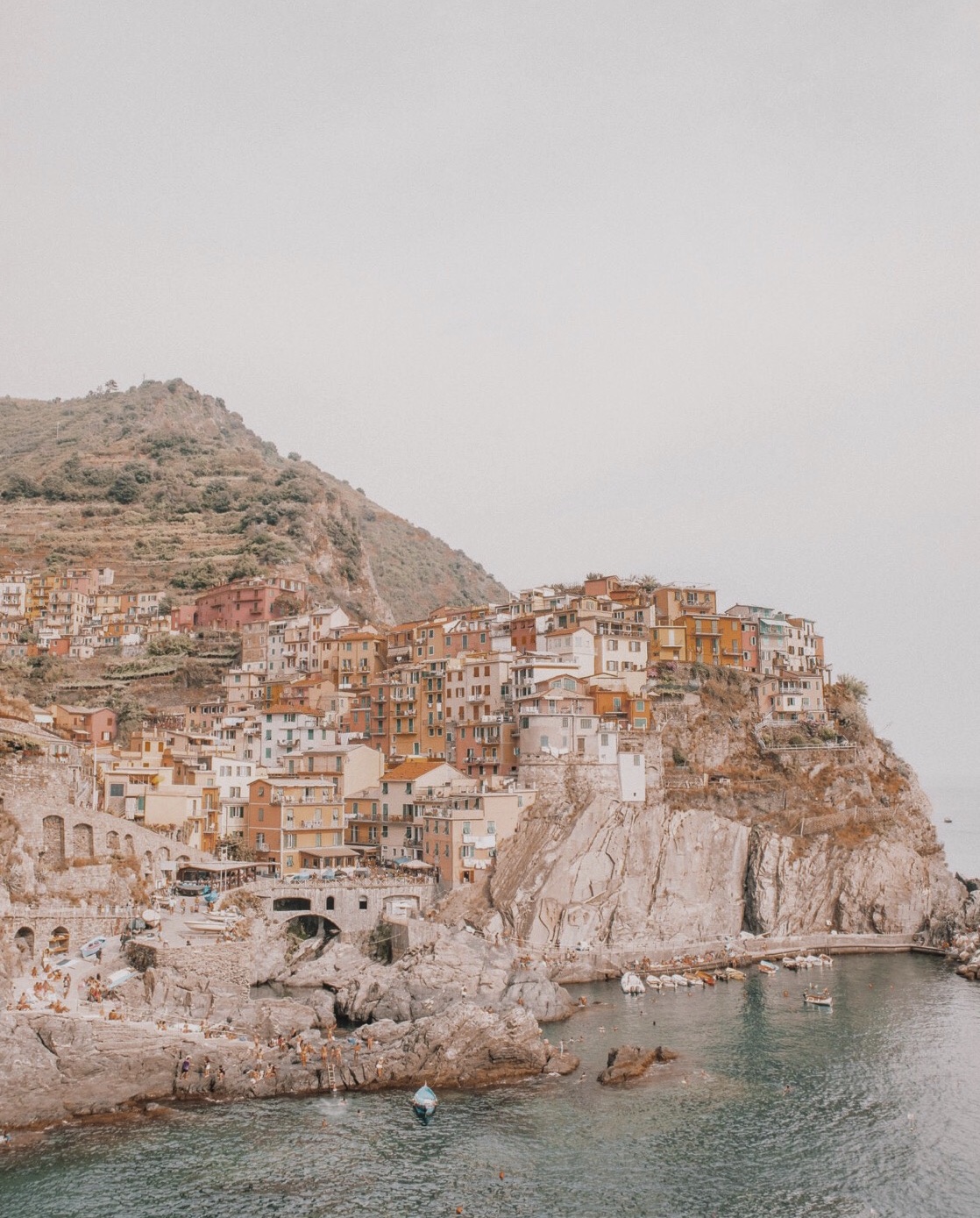 Are you looking for a whole necklace of pearls to visit? Then the obvious choice is, Cinque Terre!
The five villages in Liguria are one of Europe's hottest tourist attractions. Prepare for wonderful food, breathtaking views and beautiful walks with queues of hikers.
South of Genoa, just north of La Spezia, you will find the incredibly beautiful coastline and the national park named Cinque Terre. There are five villages forming the district Cinque Terre: Riomaggiore, Manarola, Corniglia, Vernazza and Monterosso al Mare. This place has been on the UNESCO World Heritage List for a long time. I'm not surprised, because it's gorgeous!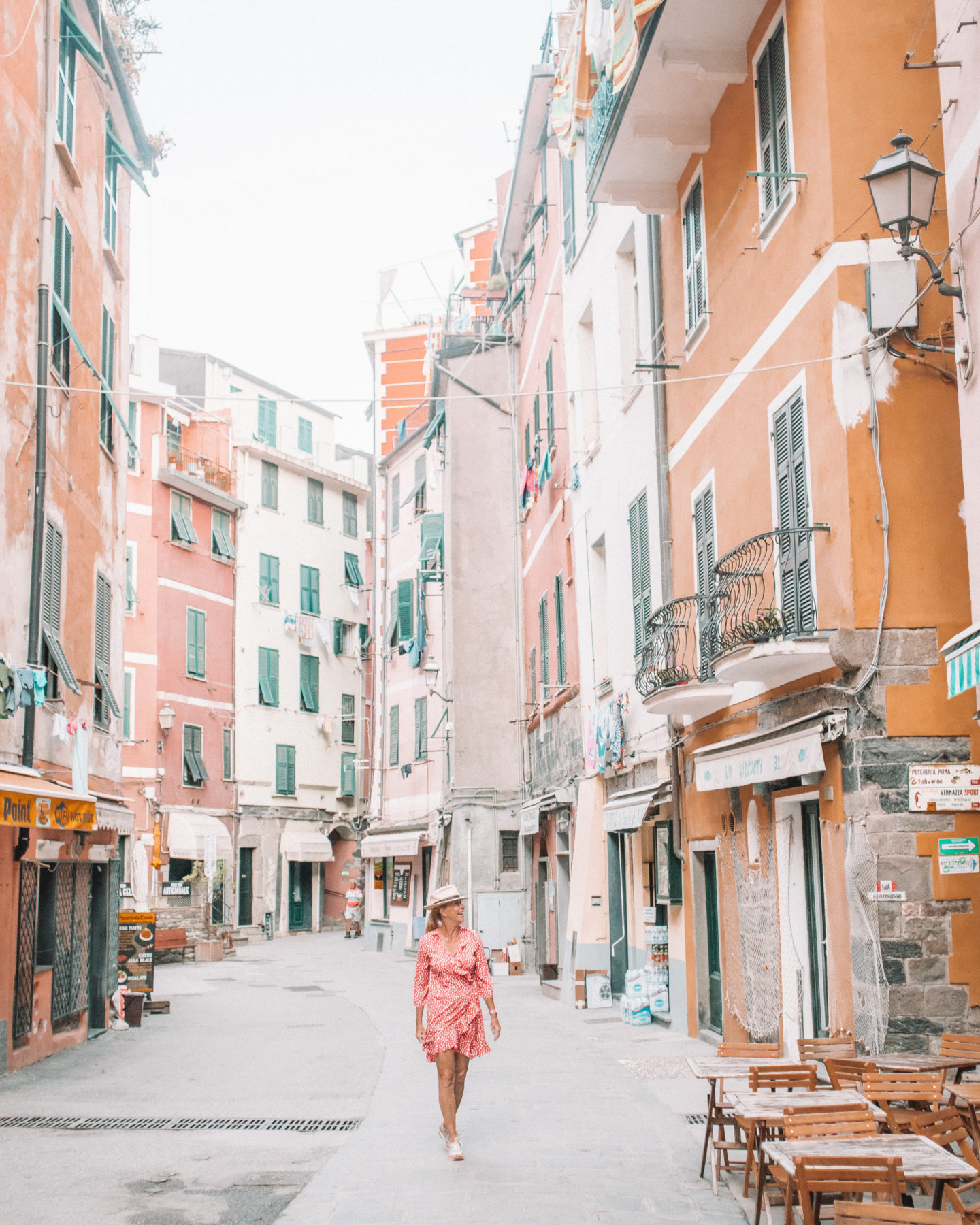 About Cinque Terre!
A toy world where everything is crowded, narrow, shrunk, squeezed … I can't believe how small everything is.
Take the world and reduce it to half. What do you get then? Yes, the Cinque Terre: a Märklin world where paths migrate between the vineyards, train surges in and out of tunnels and villages cling to mountain peaks.
Between the railways in front of the train station and the bar in the bar at the square in Riomaggiore, it's only a few meters. It's like stepping into a doll theater: a perfectionist miniature world beyond time and space, where everything is close to hand. Looking over the square, which is at the same time the village's thoroughfare i see several of hikers.
Cinque Terre smells of iron, mountain, mineral and salt sea. Mountains that descend into the ocean. Villages clinging to rocks and hiding in deep valleys. Hiking trails that go straight through vineyards. The area is at the same time rolling green and sparkling blue, rated as a national park and has world heritage status (since 1998).
Good to know!
If you thinking of visit during high season it will be crowdy and the prices a little bit high, but the good thing is that it's very cheap to eat and drink in Cinque Terre compared to several other places in Italy. You can have a great pasta for 7-10€!
The area is very popular and the season extends between April and October, with peak season during May-June as well as September.
To get here!
The easiest way to get here is by train. Cars must be parked outside the villages, and some villages can be difficult to get by by car, as the roads are small and the cars are many during high season.
I flew to Pisa, it took me only 2 hours by train to reach Cinque Terre. You can also choose to fly to Milan, then the train will take about 3-4 hours.
One of the owners of a local vineyard in Manarola! Love meeting locals!
History!
Cinque Terre was once five independent petty states fighting against pirates while fighting each other. Today five beautiful villages in the region of Liguria between the villages of Genoa and La Spezia. The fight has also been brought against nature. Erosion has been as bad as pirates. The earth on the transversal rocks threatens to continually tear down into the sea, which is extra clear in Corniglia, where the remains of the village are clinging to a mountain peak.
For a long time five different worlds with cultural features even though the distances between them are no more than a few kilometers. But when the last century was young, isolation was broken thanks to the railway that drill through the mountains. Several of the villages were already in Roman times, as evidenced by inscriptions on the amphorae of southern Italy Pompeii, traces of the city name Manarola of Manes, the God of the Dead Souls, and source references to the Emperors Maximilian and Diocletian as parts of their lives lived here.
The southernmost village, Riomaggiore is the youngest of the villages, it was founded only in the late twelfth century.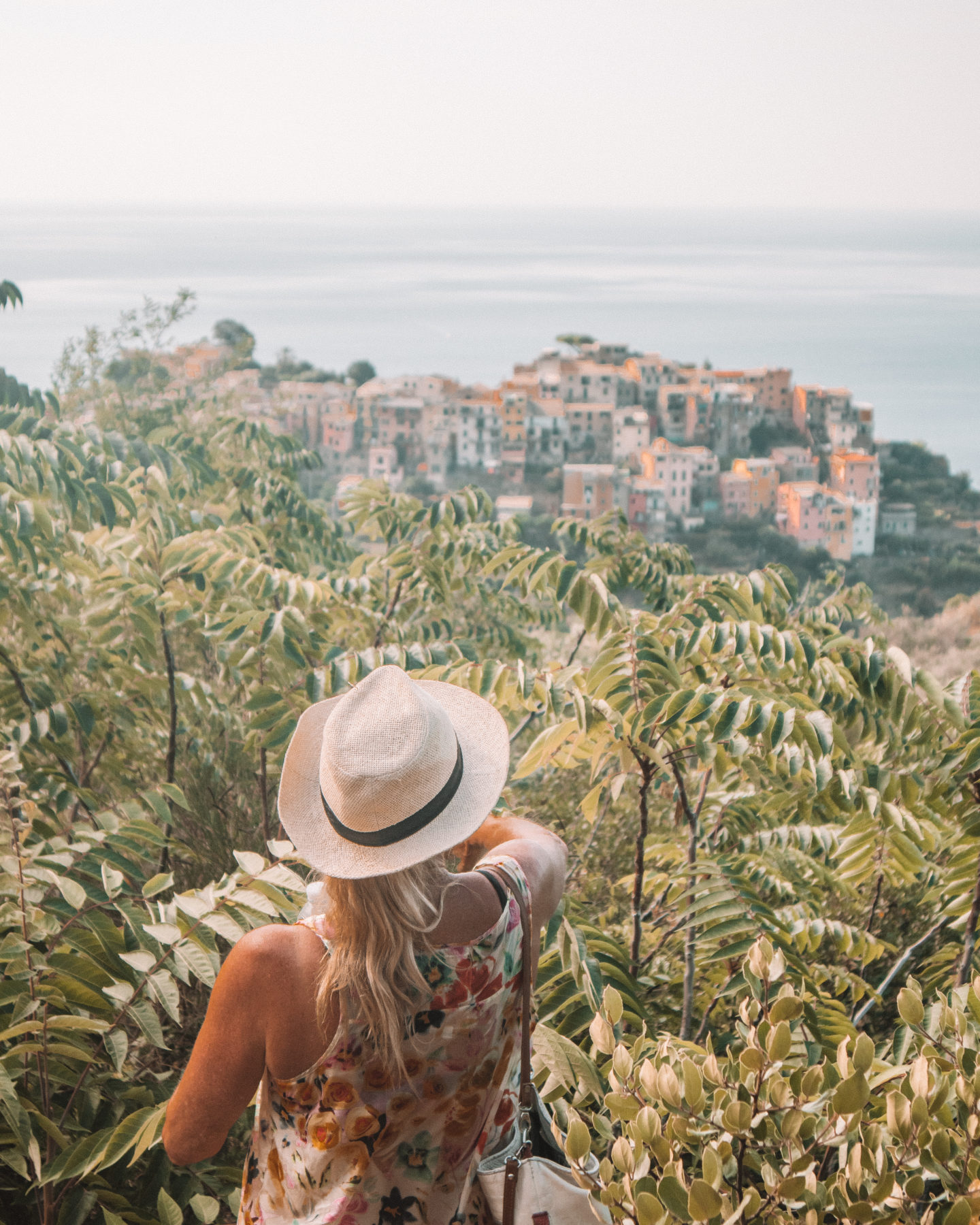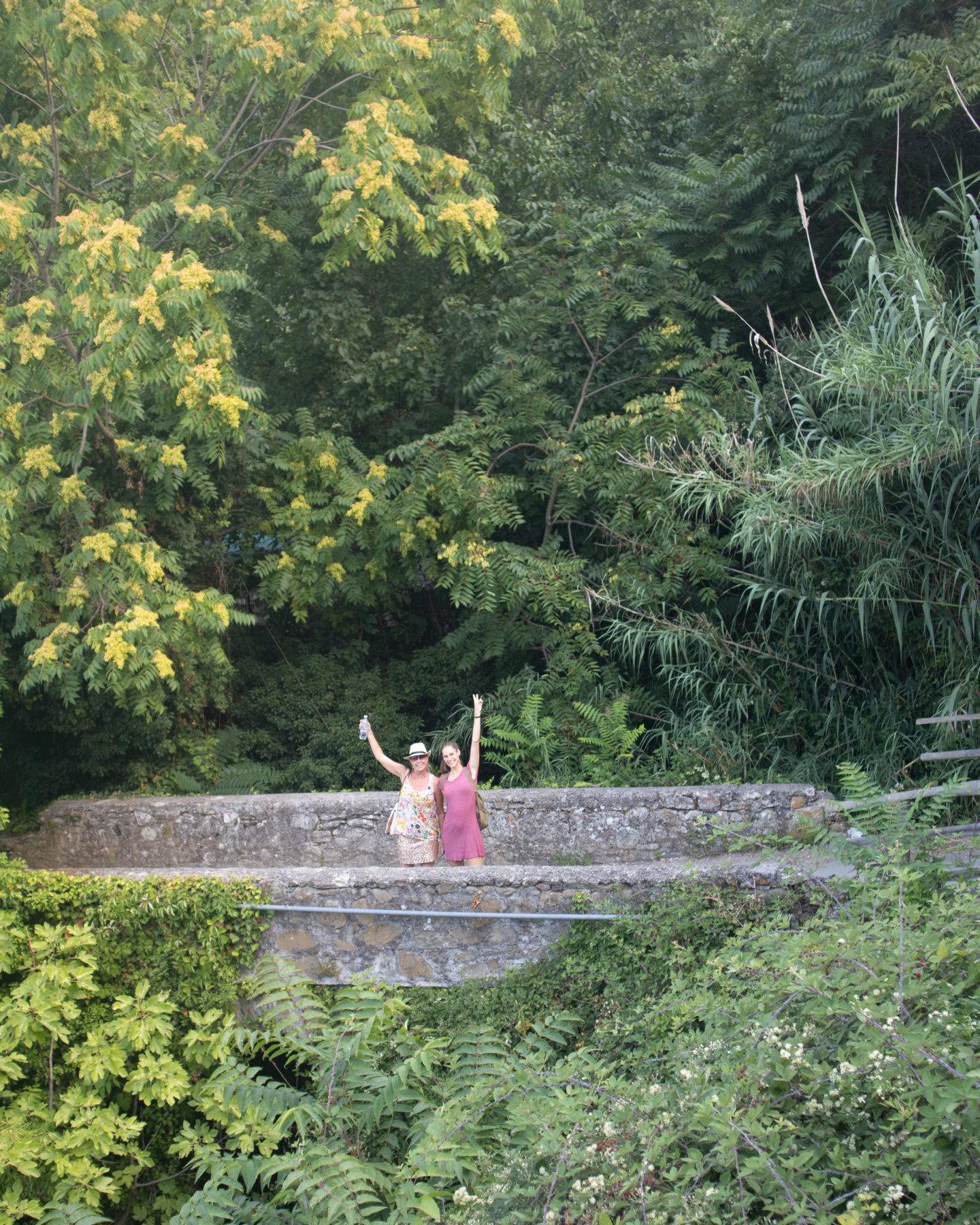 Hiking!
There are many trails to wander in the Cinque Terre. The majority are light joints but also a few medium problems exist. The routes are between 1.5 km – 4.8 km and the most famous is "La Via dell'Amore" which runs between Riomaggiore and Manarola. It is more like a walkway and only 1 km long. A great alternative for those who just want to enjoy the sun and sea for a little while without hiking boots.
The other trails usually go along the coast at different levels, but there is also longer that takes you up among mountains and vineyards. Animals that thrive here include cataracts, snakes, pilgrims and wild boar.
Also, joints that are referred to as light have elevations and sometimes long stairs between the cultivation terraces.
You can also hike all the way to Portovenere's beautiful little harbor. It is a journey of about 6 hours from Riomaggiore. The area also has an interesting marine reserve with the possibility of snorkeling, diving and whale watching. Whalers along the coast include pickles, bottlenecks and catfish whales.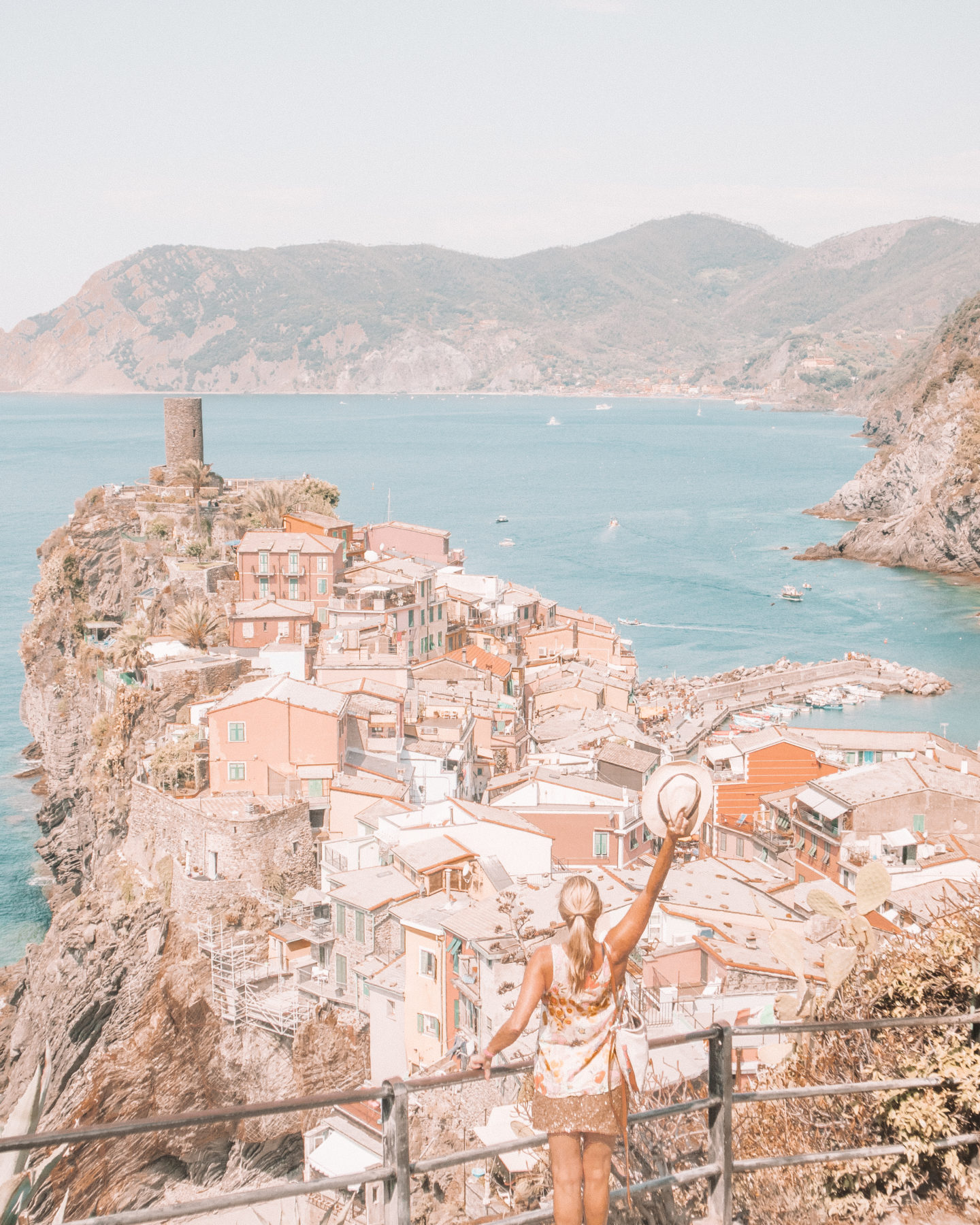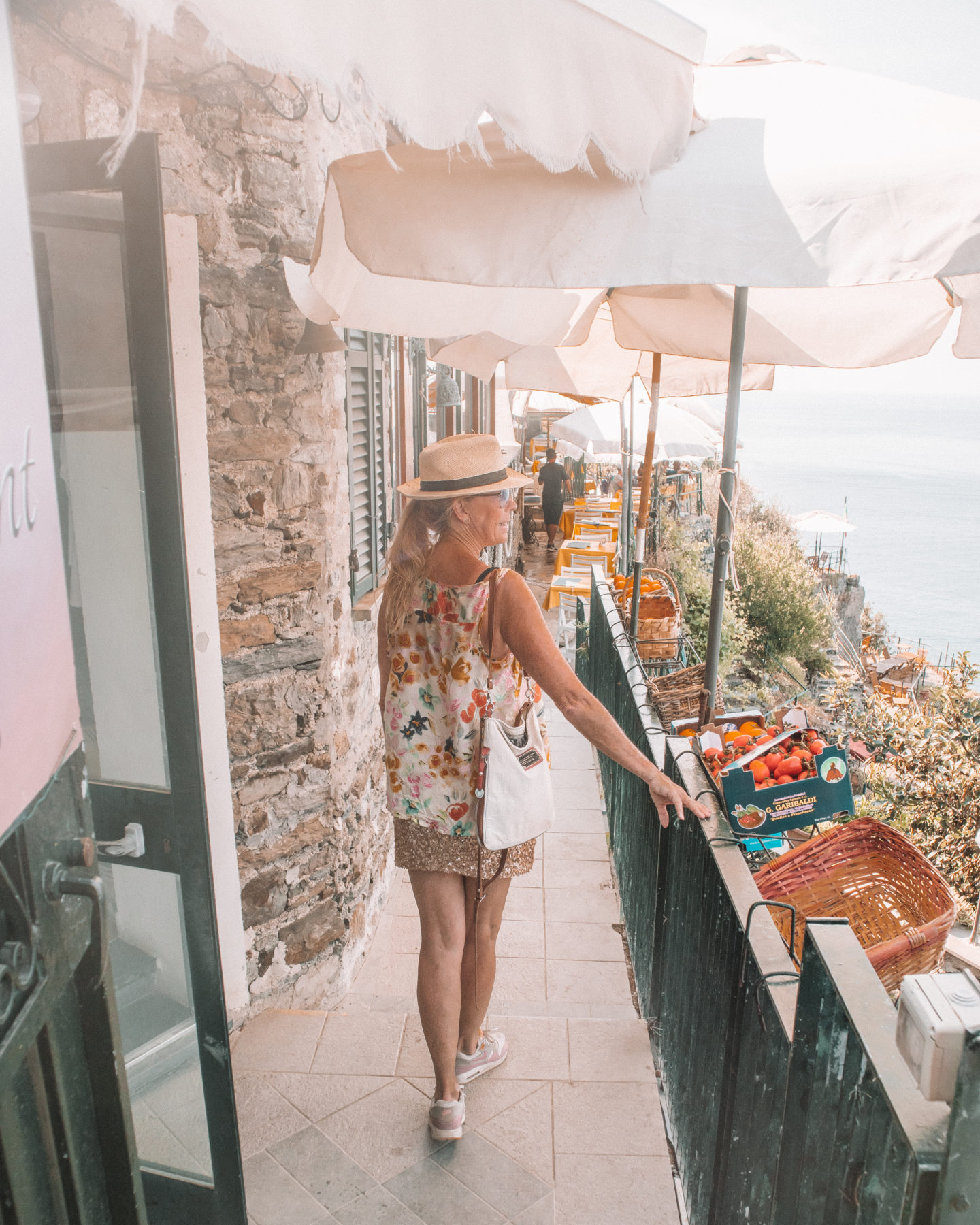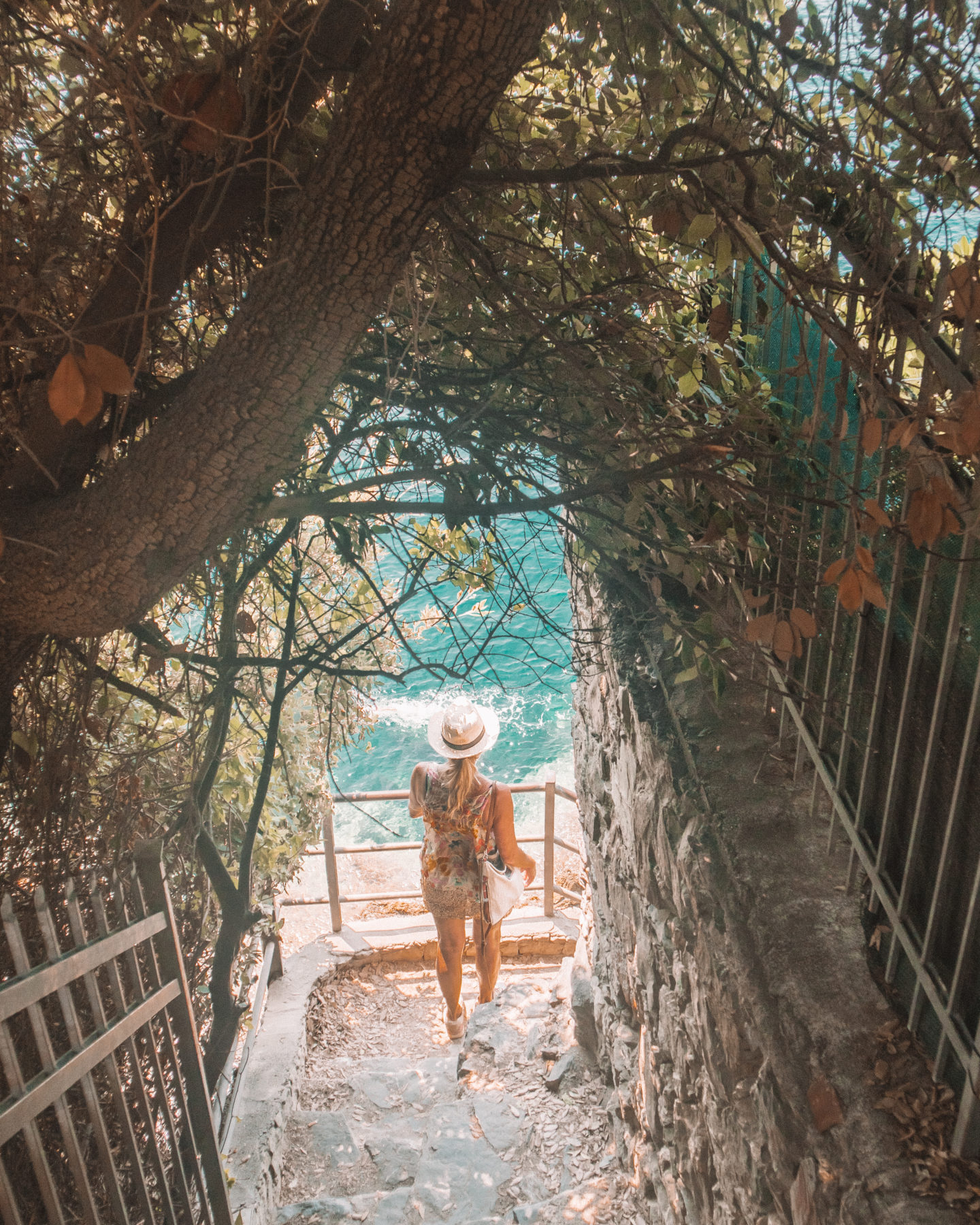 I'm still high after doing the hiking, it's something I highly recommend! The best thing I've done for a long time!
I know that several visit Cinque Terre without hiking, but if you really want to embrace the beauty of this area, you should definitely try it!
Hiking prices!
You can do like me and buy a ticket at the start of the hike for 7 €. Then you can hike all day but you need to pay for the train. Or you can pay 16 € and get all trains included. Or if you prefer to do it in two days you can buy a package ticket for 29 € including the trains.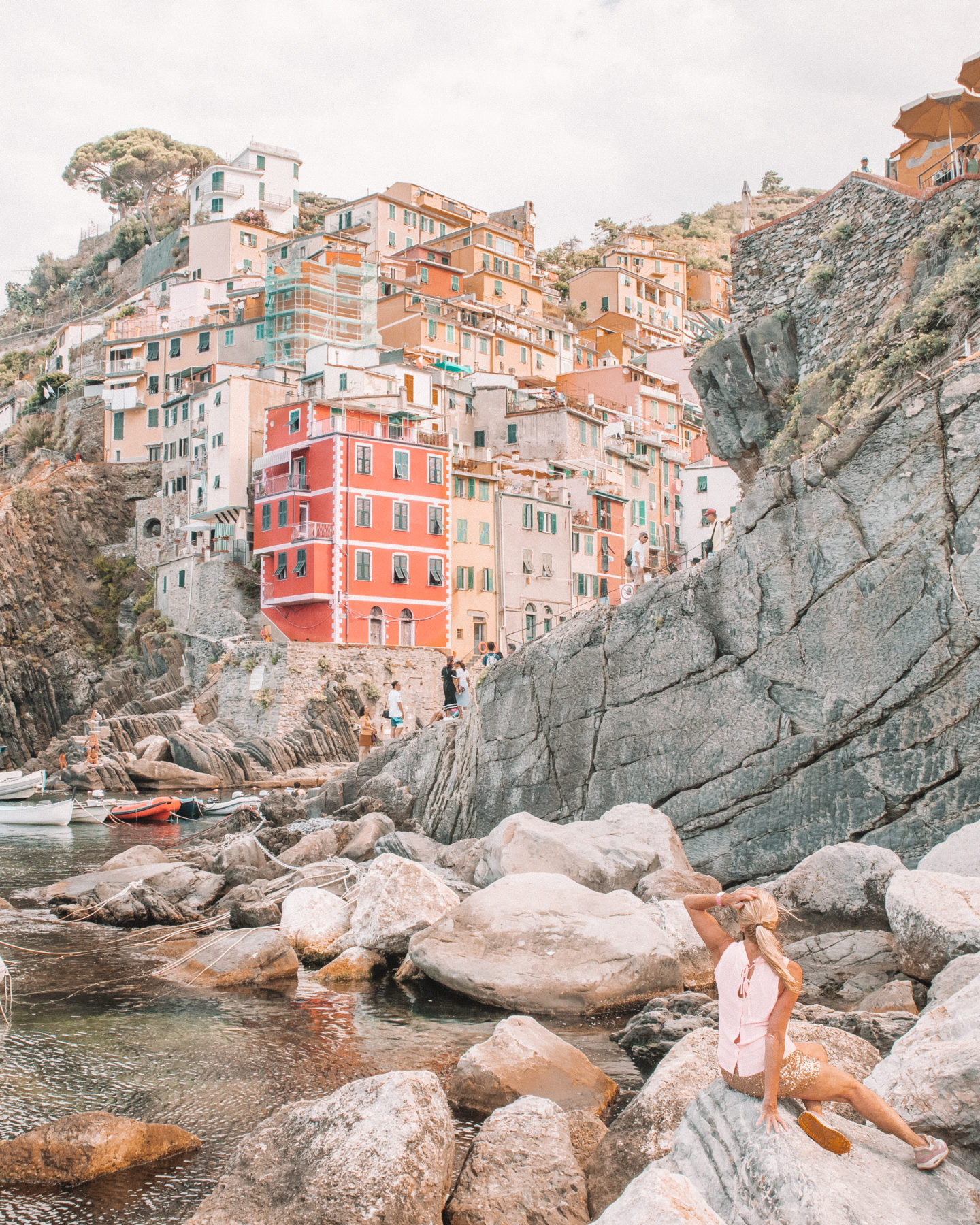 Riomaggiore!
So let's talk about the five different villages, each one has its own charm! First out we have Riomaggiore with the famous red house in the small port.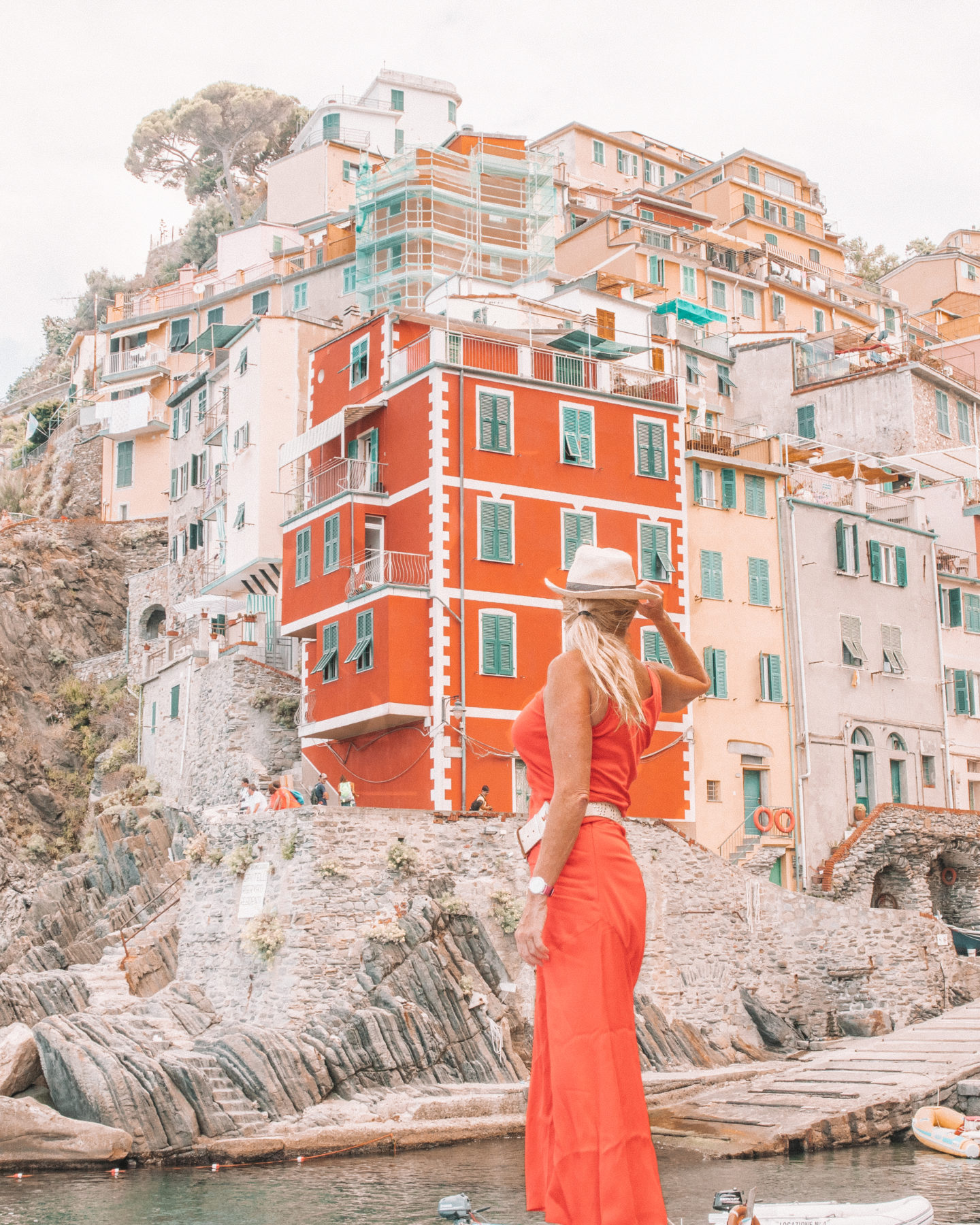 About Riomaggiore!
This is the first stop after La Spezia. Riomaggiore is a beautiful colorful place that climbs along the mountain walls overlooking the ocean. Some say that this may be the most typical and genuine of the five villages, but I do not know if I'm prepared to agree.
I felt that this place was a bit more of a tourist trap than Manarola, Corniglia and Vernazza.
I needed to visit a toilet and asked if I could borrow one in a few different places, but I was referred to an official toilet where it cost money to go in. This didn't happen in any of the other villages, you could easily borrow a toilet in a cafe' or a restaurant if you asked in a nice way in the other villages.
Good to know!
Riomaggiore got really crowded with tourist during day time. Still it's a very beautiful village. If you like pink this will feel like a dream.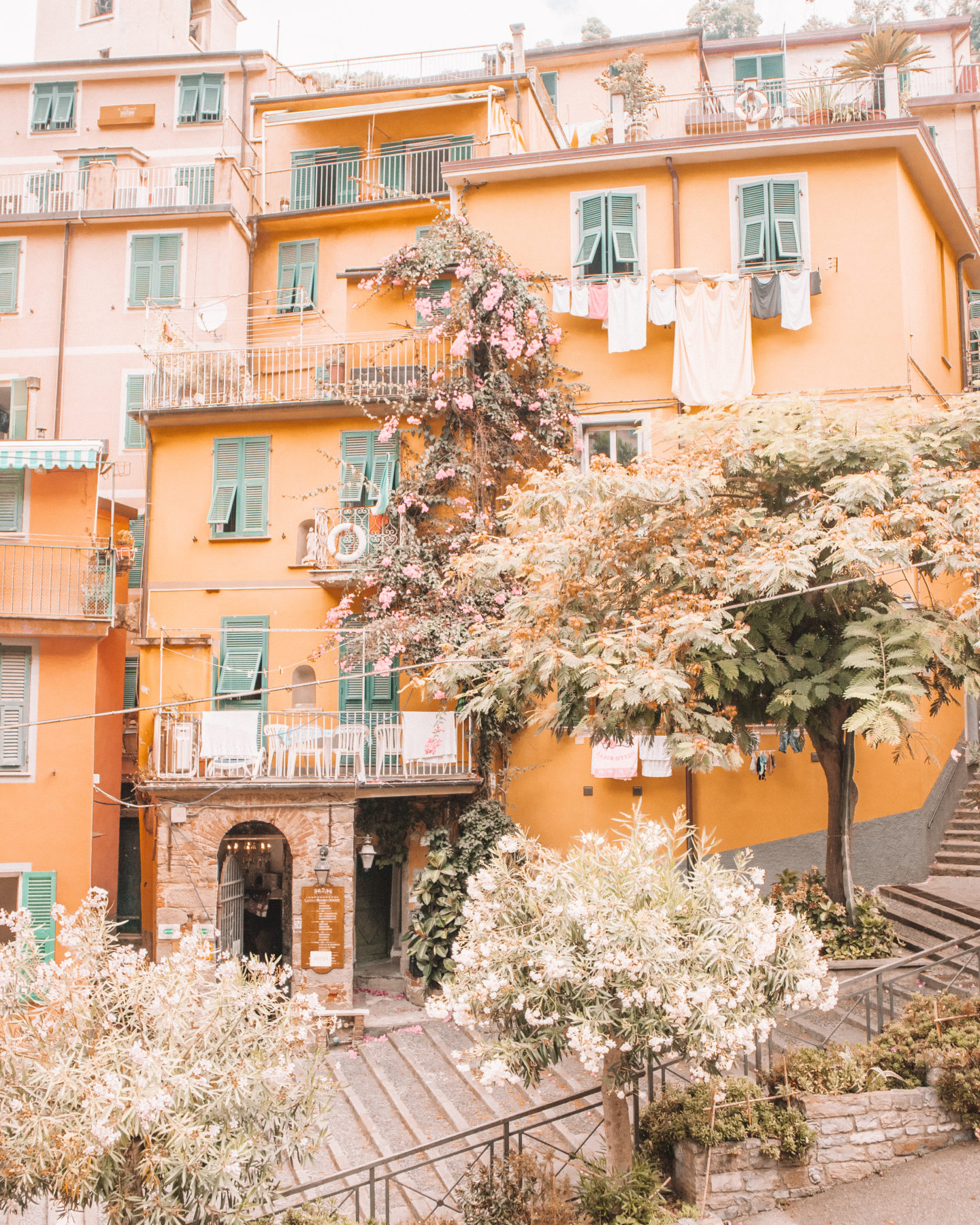 Where to stay!
I think you should try to stay in one of the villages to get the right feeling if you hinking of visit Cinque Terre and not in La Spezia. There are several Airbnb in Riomaggiore to choose from and a few cute hotels.
This last picture is taken from the port.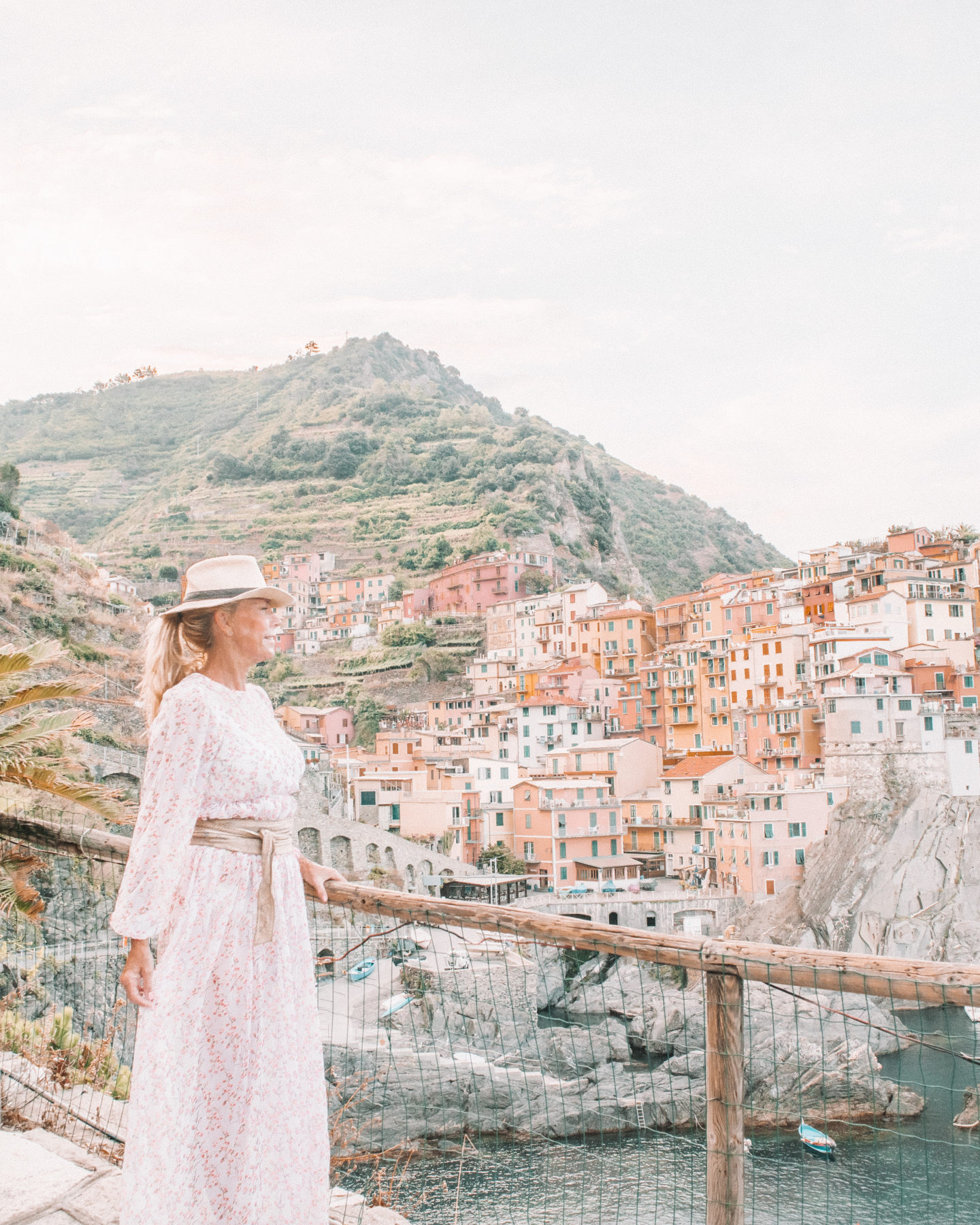 Manarola!
This village is my absolute favorite village of them all! I immediately felt like coming home. The locals are the nicest and kindest. The port is very cute and the views are gorgeous! I let the pictures speak for itself!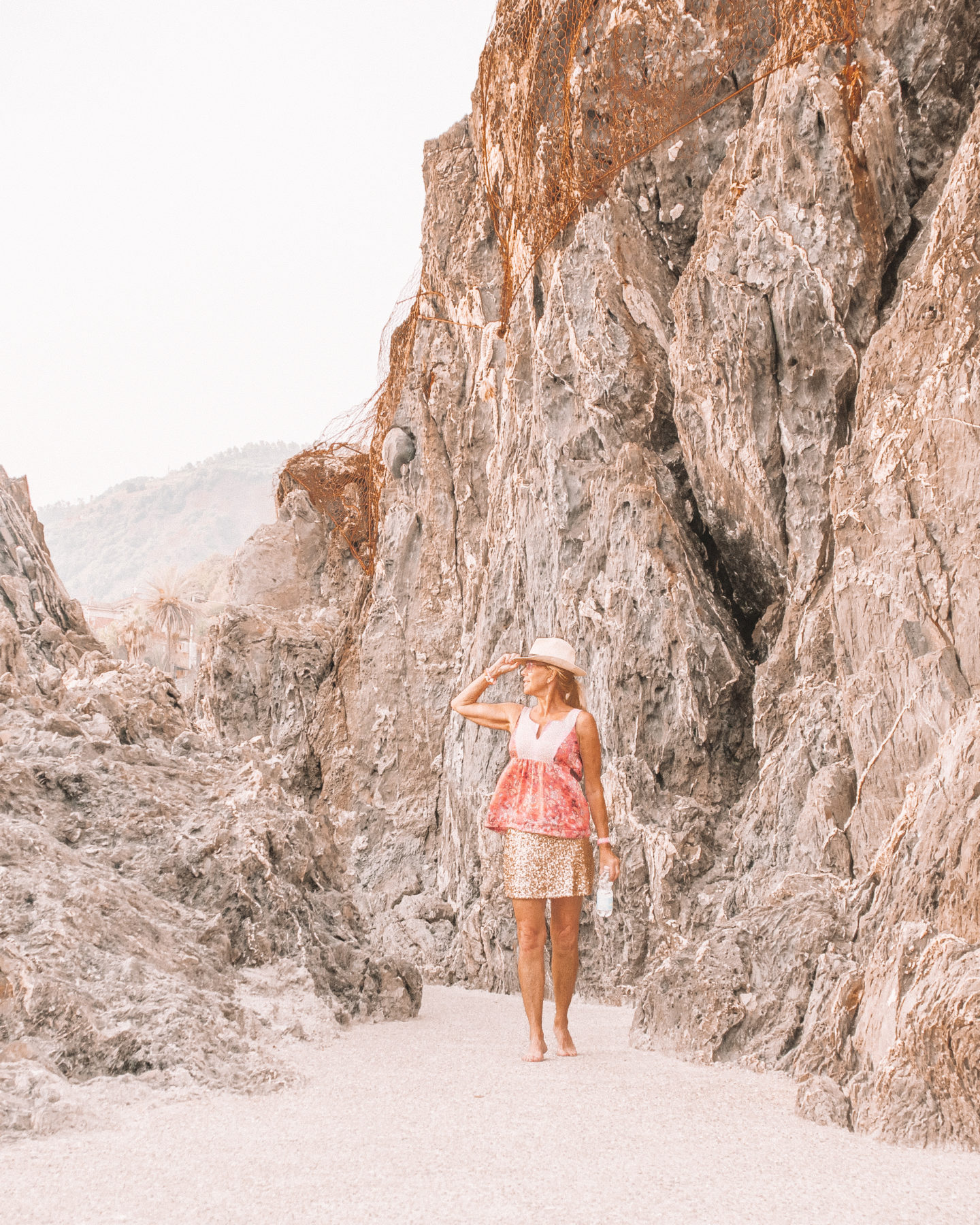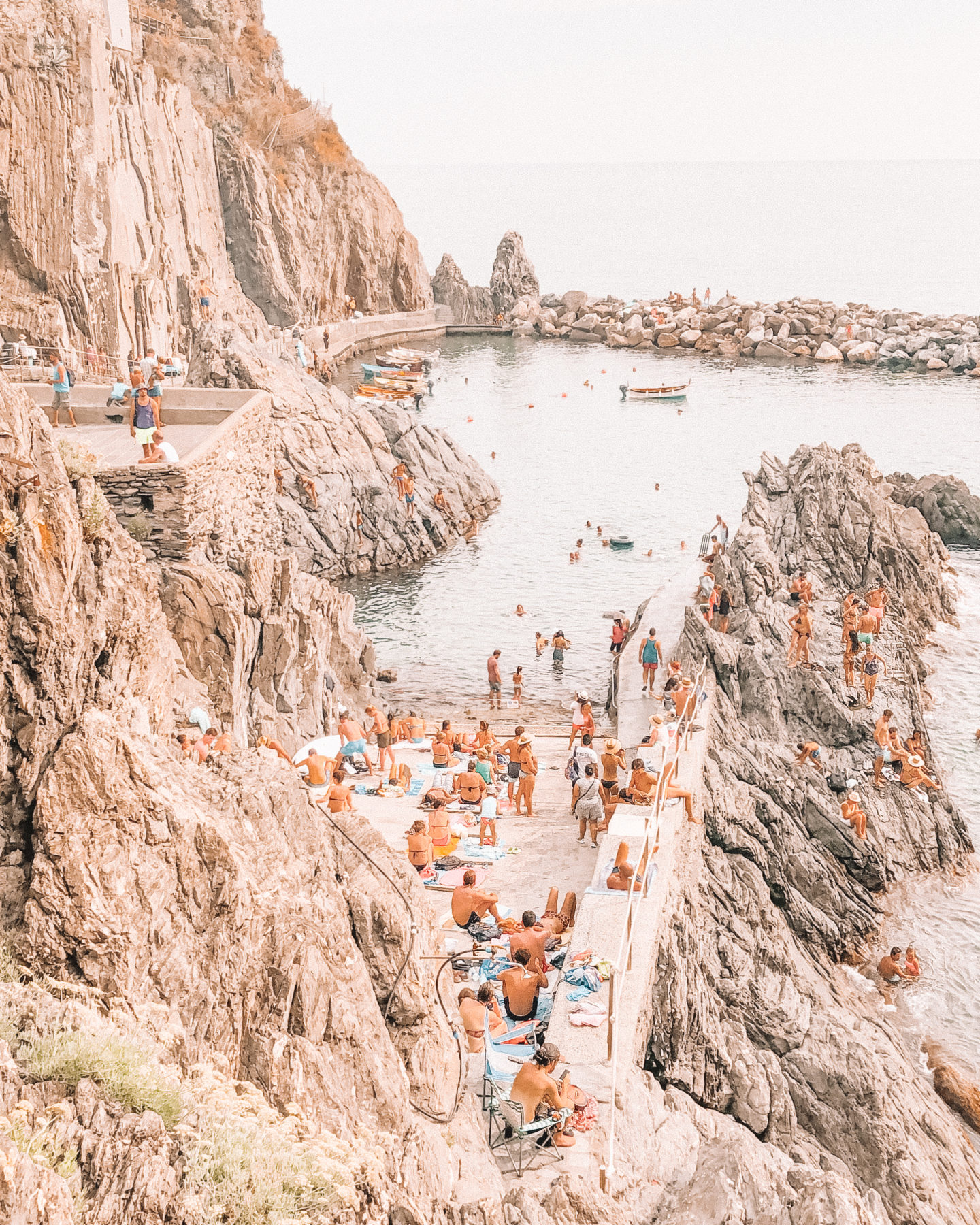 You can take a swim or jump from a cliff in the port in Manarola. In evenings we all locals and tourists gathered in the port, to chill and watch the beautiful sunset!
Manarola is a laid back village.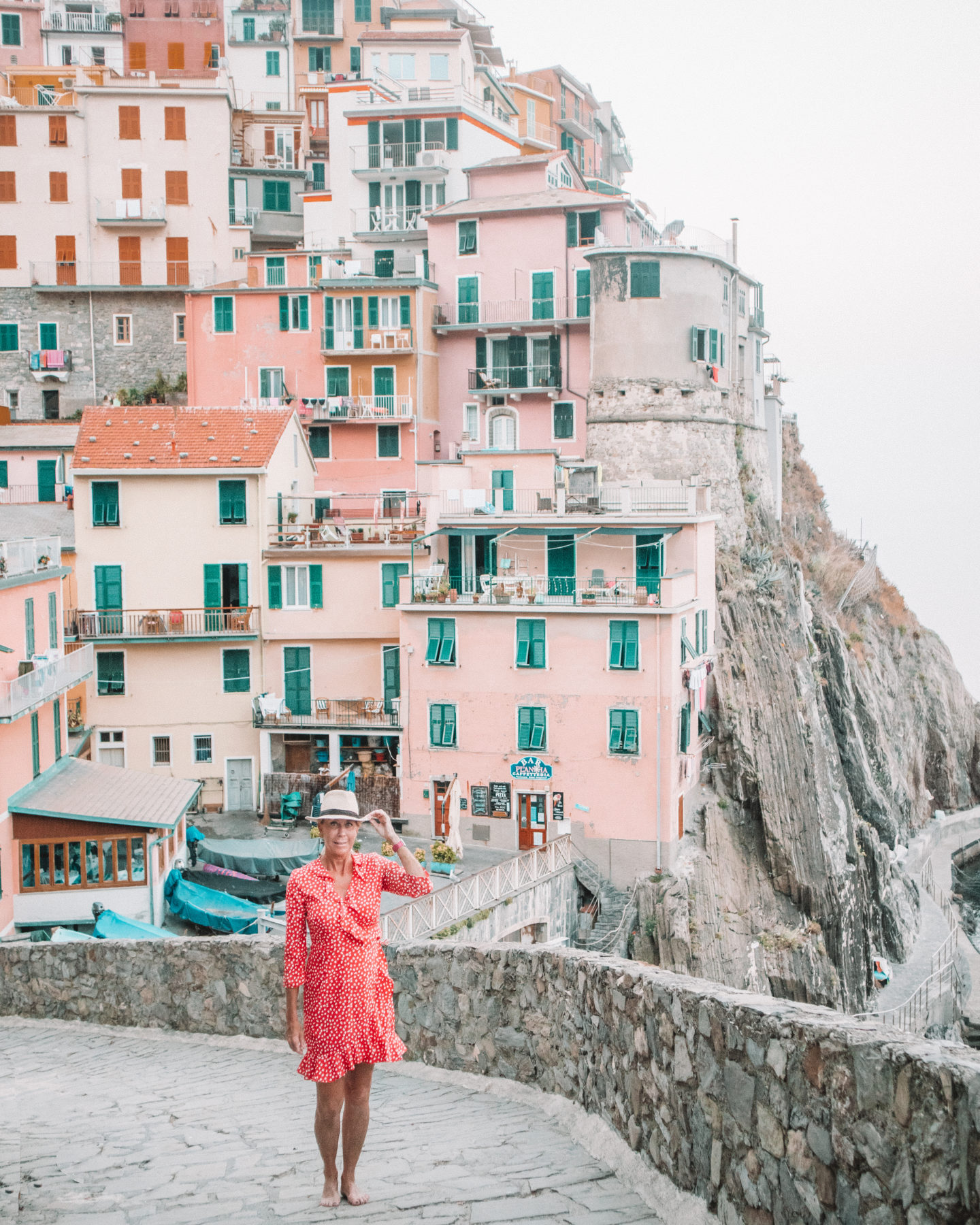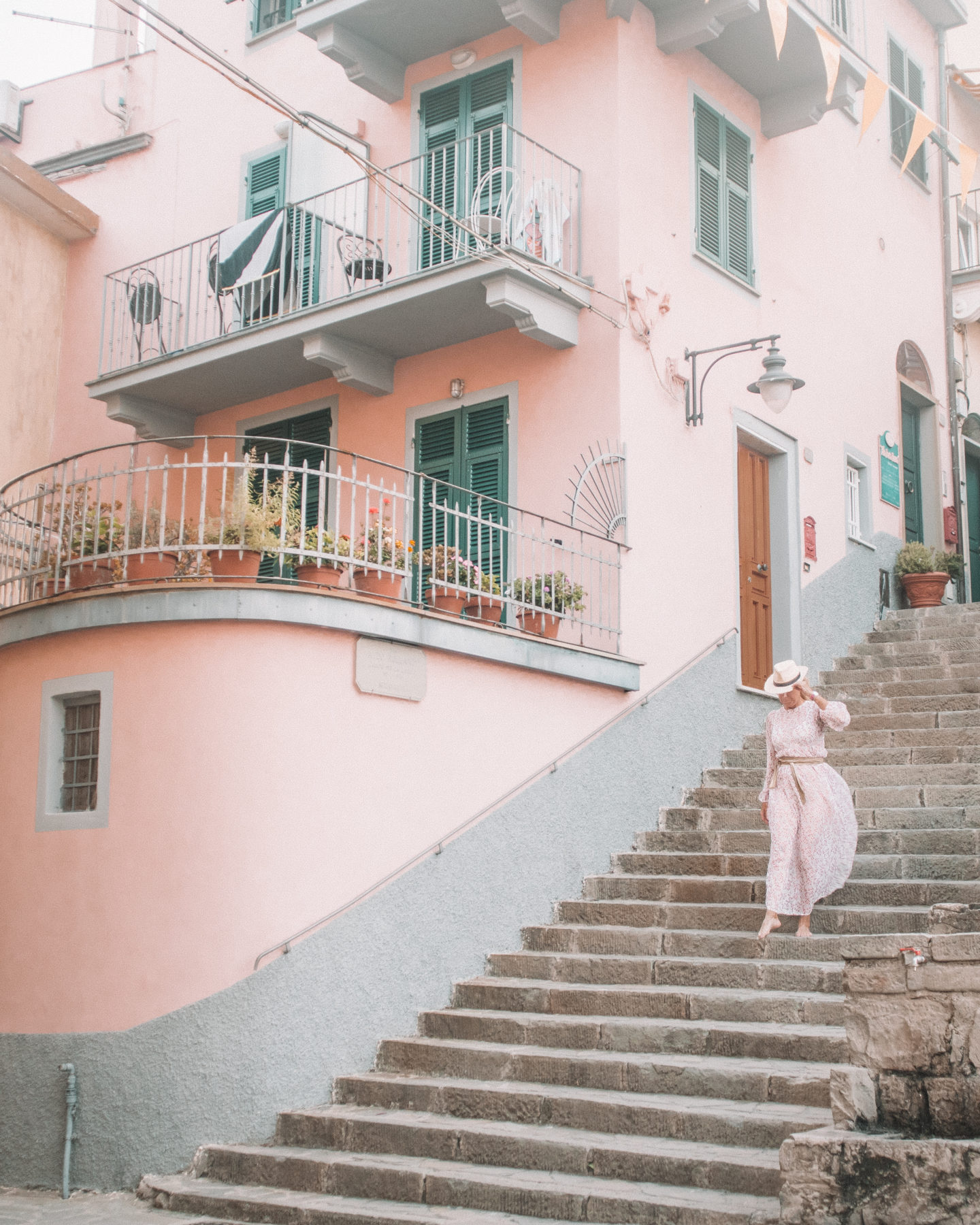 Good to know!
I didn't feel that Manarola was a crowdy during daytime as Riomaggiore. You could always find some cute spots where you could chill without a lot of people around you.
Where to stay!
Like in Riomaggiore there are several Airbnb in Riomaggiore to choose from and a few cute hotels.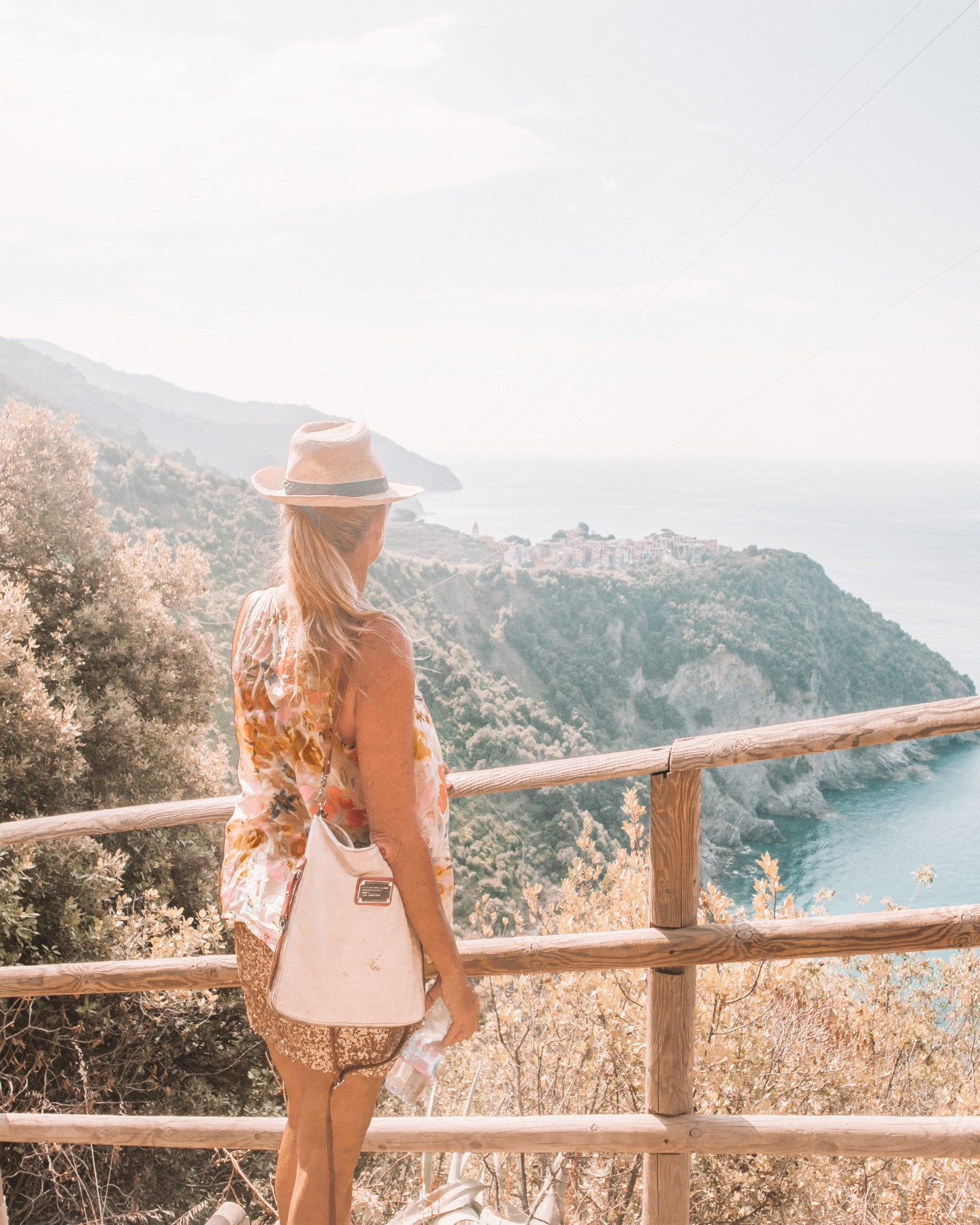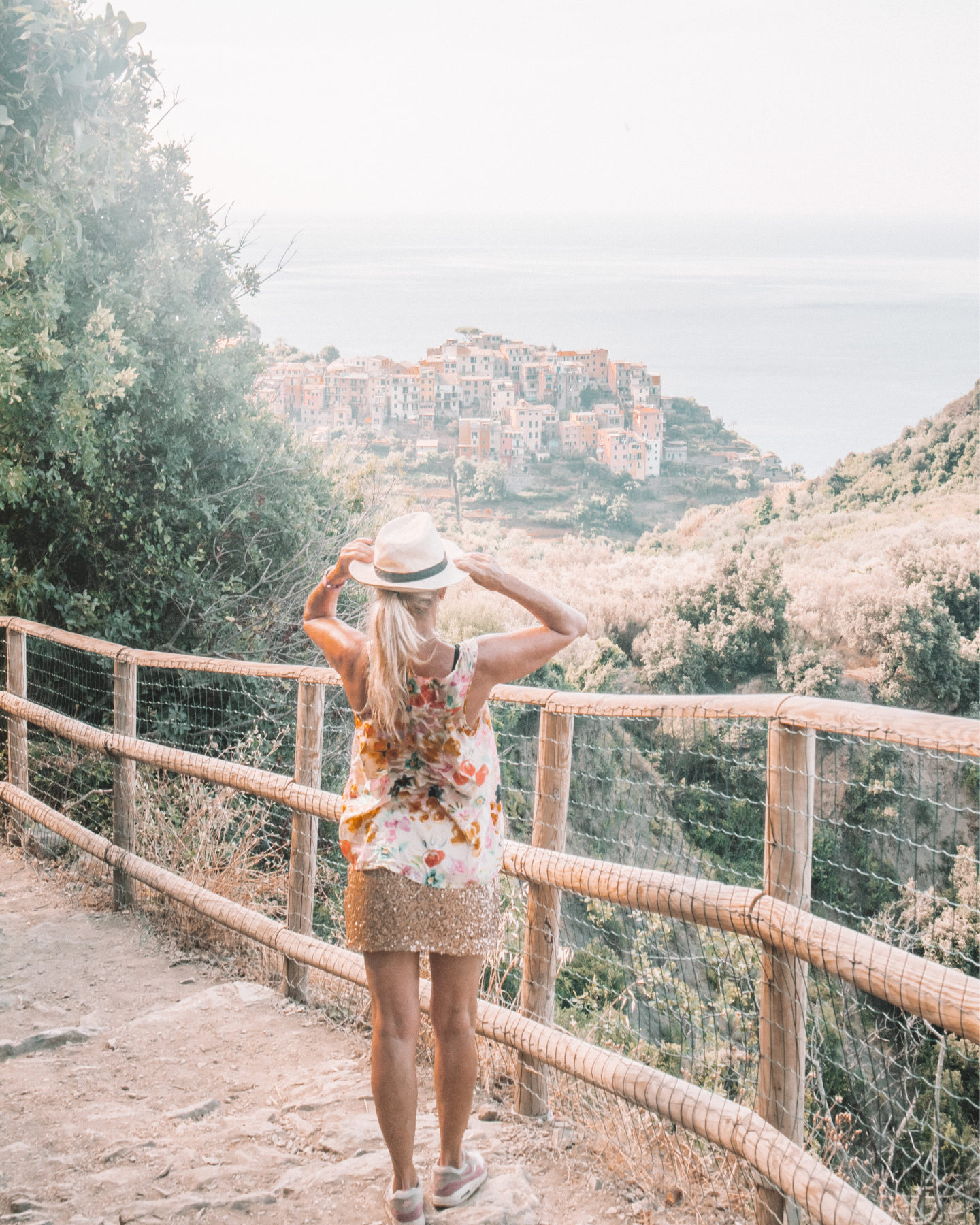 Corniglia!
The only one of the five villages not located directly at the sea, but thrown on a cliff hundred meters above the Mediterranean Sea. A smooth yard of colorful houses, crooked streets and narrow alleys and lots of restaurants and small shops.
I didn't have the time to explore this village as much as the others but it was very cute!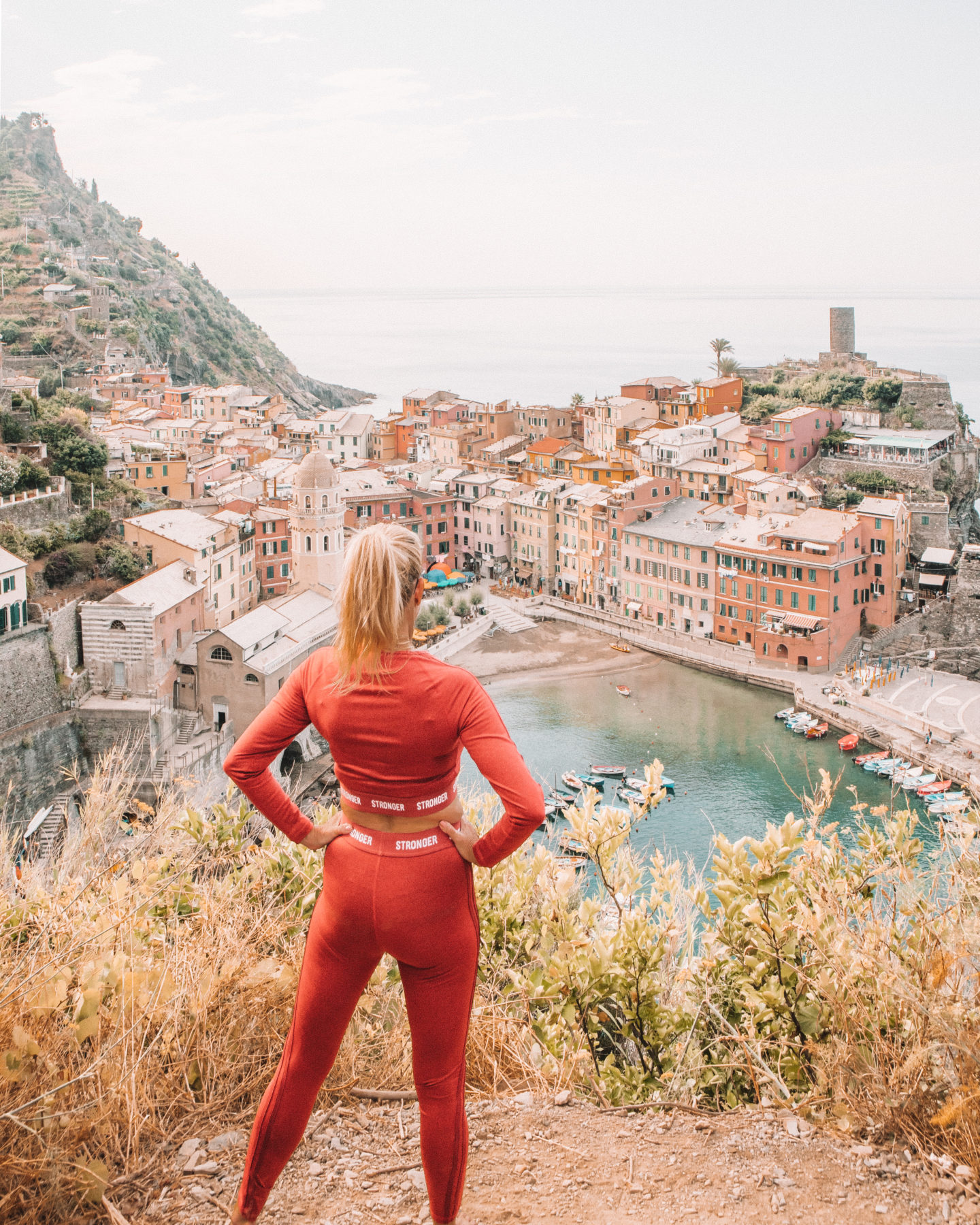 Vernazza!
This is my other favorite! It's not hard to understand with a view like this! What do you think?
Vernazza is extremely beautifully situated on an oceanside in the ocean with a castle at the outermost once built as a defense against pirates. Tiny sandy beach. A square with several good restaurants. Image as an artist colony. Fully car free, but you can park expensive just outside the village and walk in.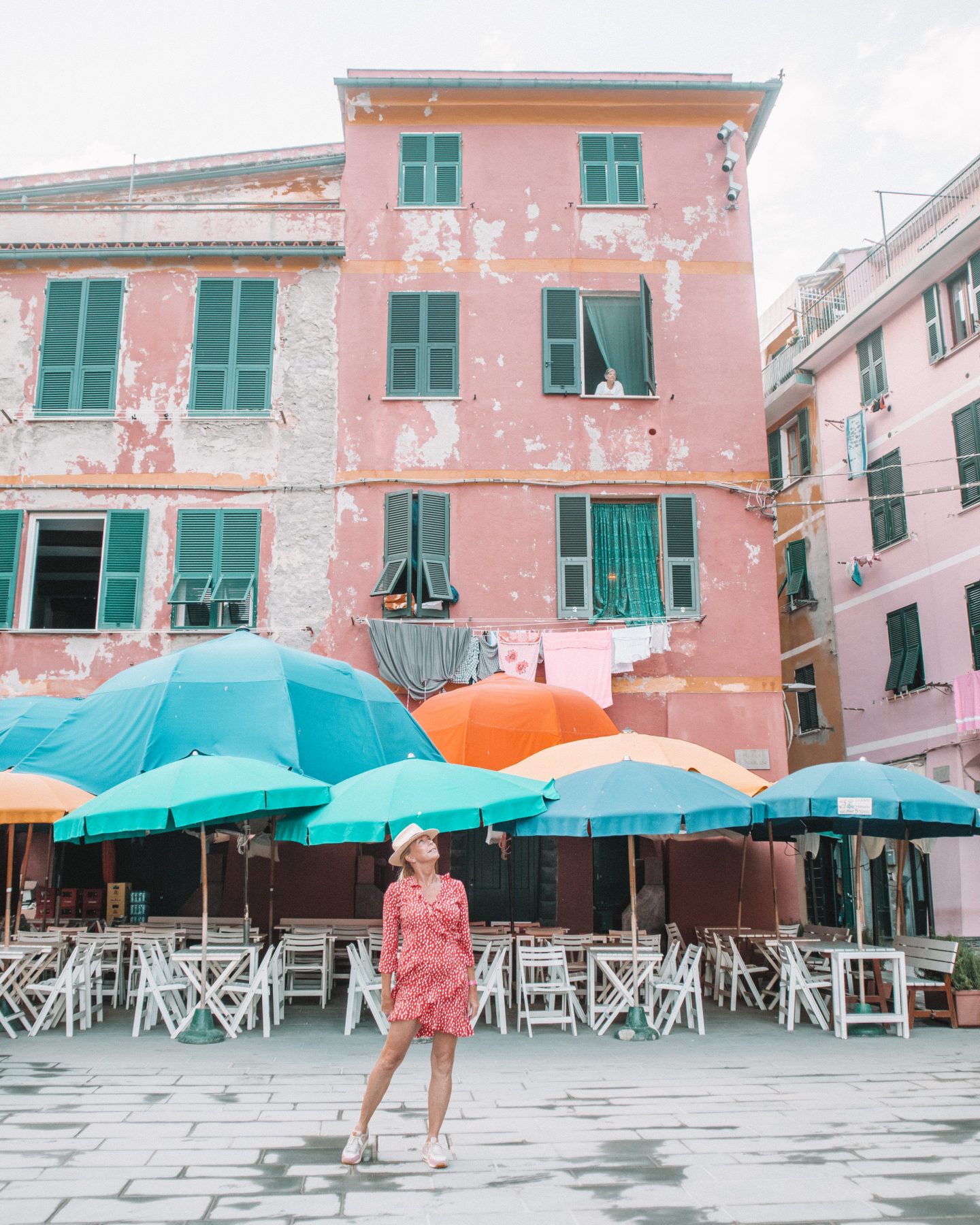 This is one of my favorite photos from my visit, check the lady looking out from her window wondering what in earth is she doing up so early! Lol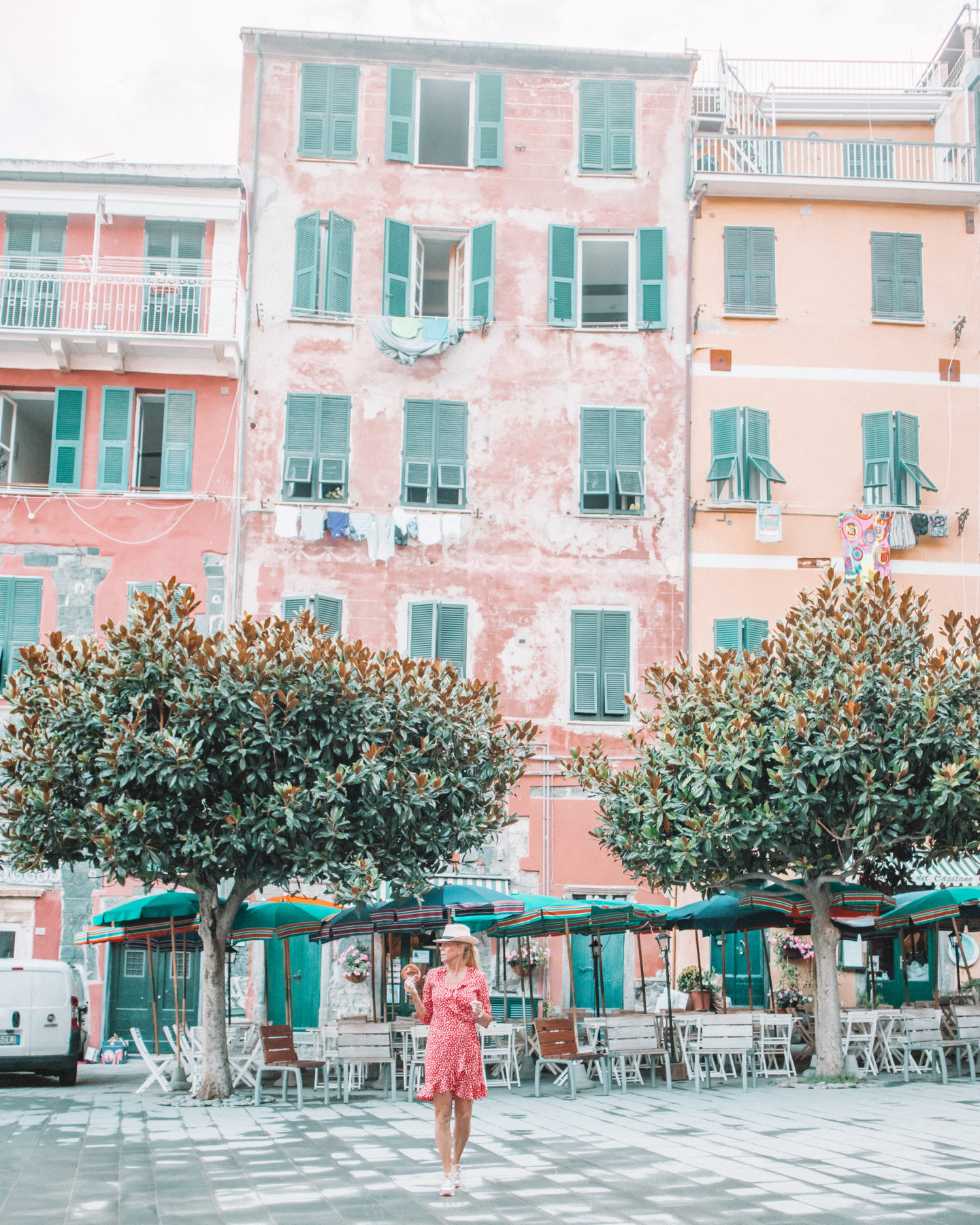 The square in Vernazza is a natural place to gather for a lunch, dinner or breakfast. The pictures shows how it looks before everything opens in the morning. It gets very busy during daytime. Being a blogger you are always on the run before everyone wakes, and breakfast this morning was a very tasty donut from the cute bakery store.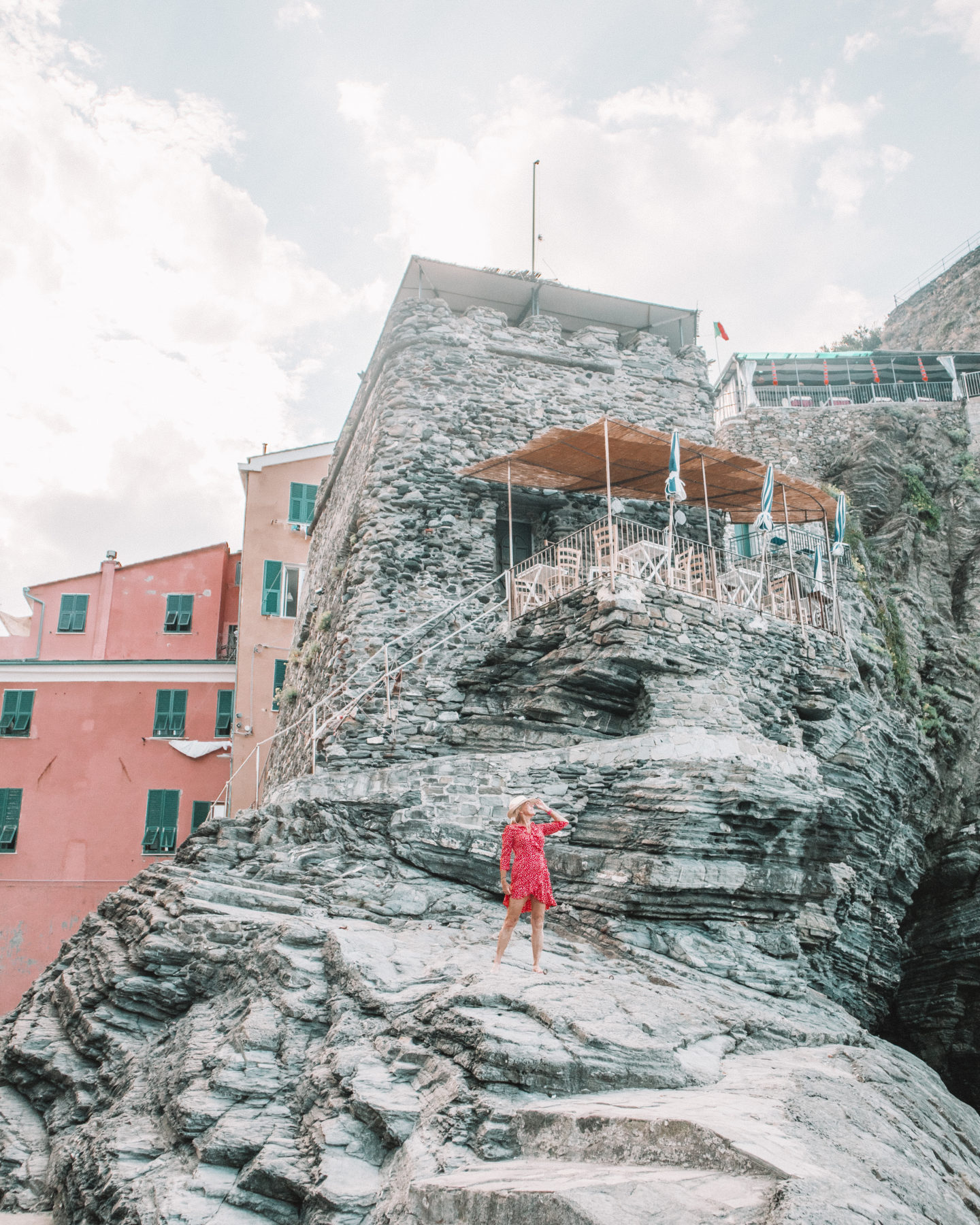 This is a very popular restaurant situated by the port. To get a table you need to make a reservation! What do you think, would you dare to sit on the balcony? I can promise you that you will have an amazing view!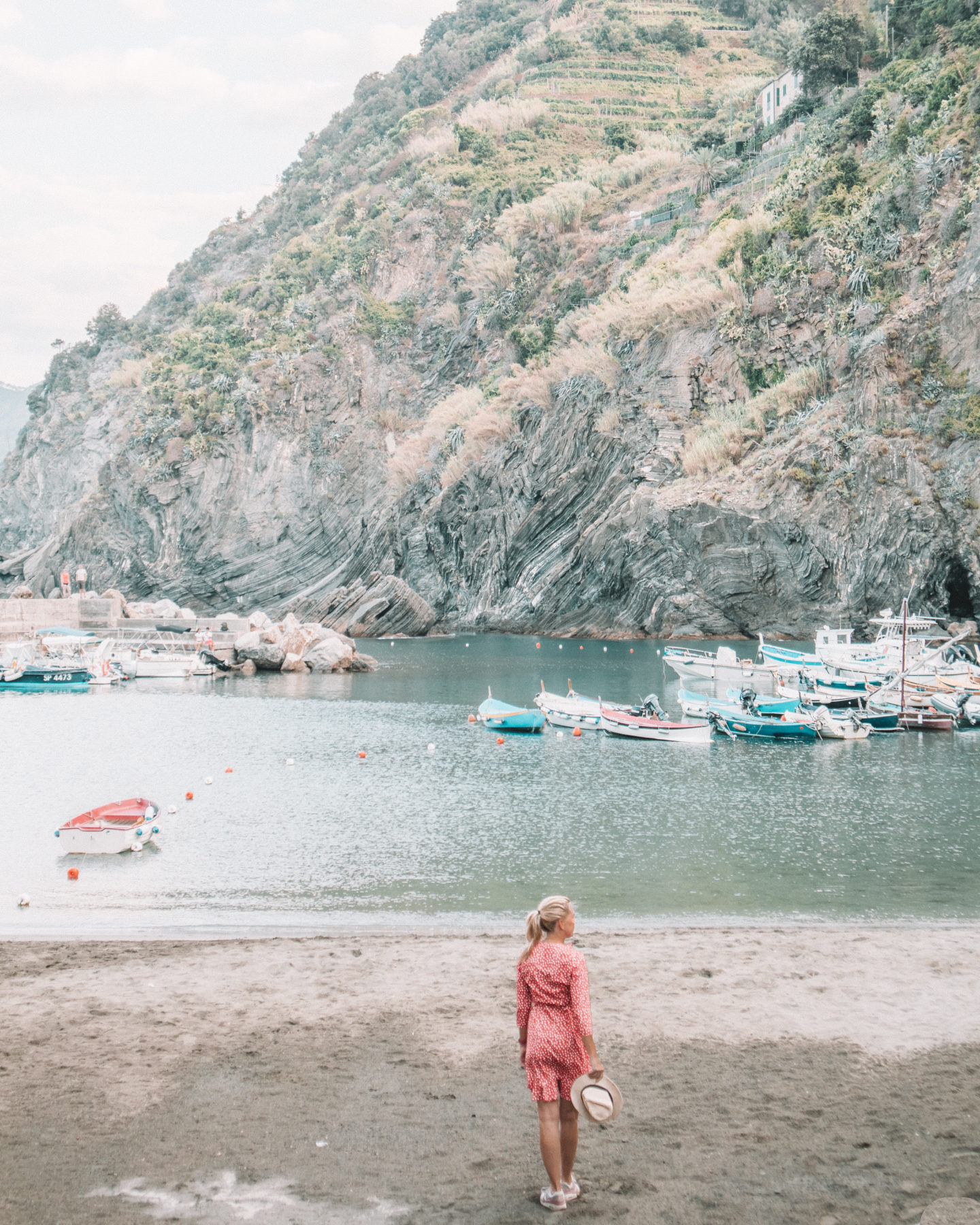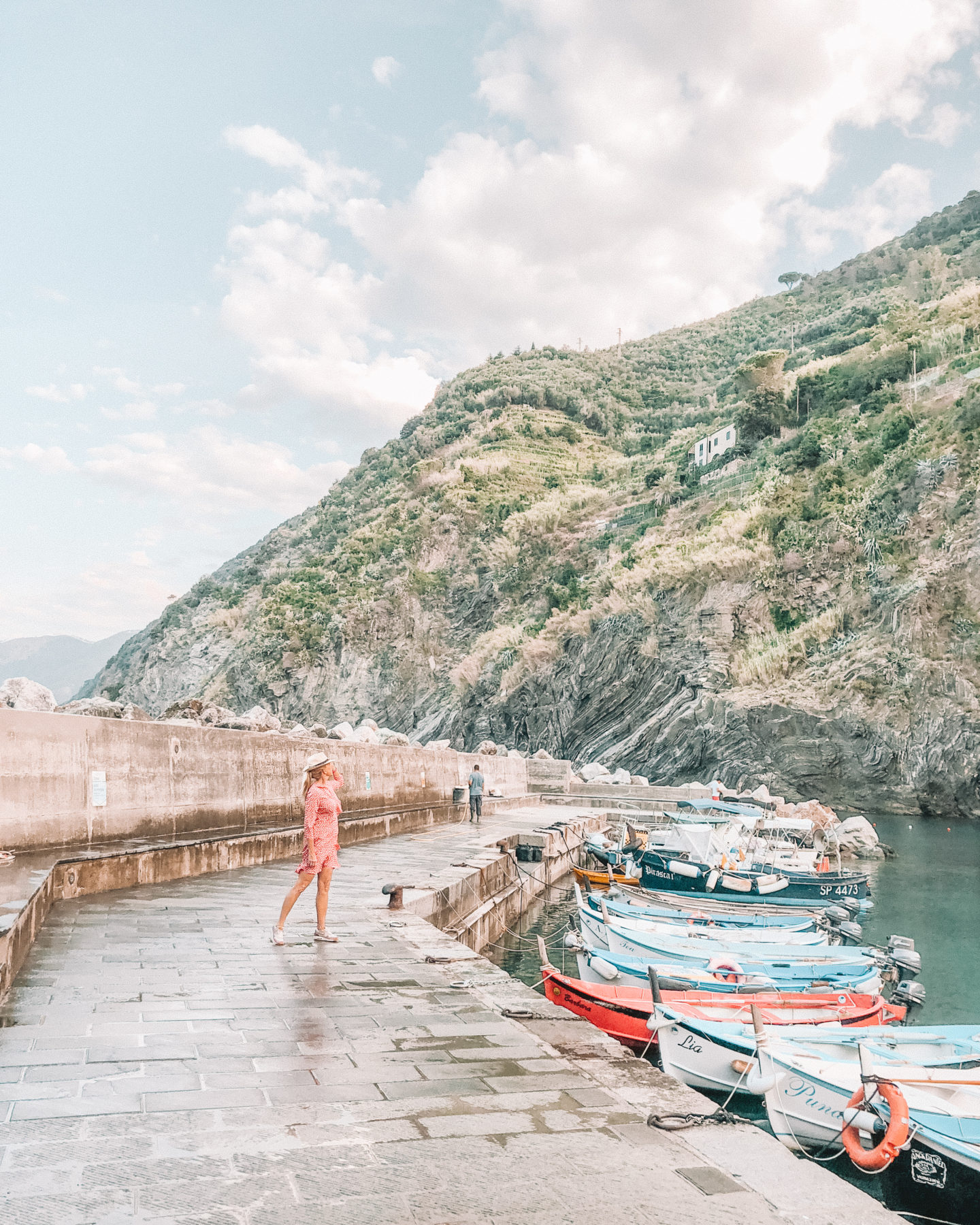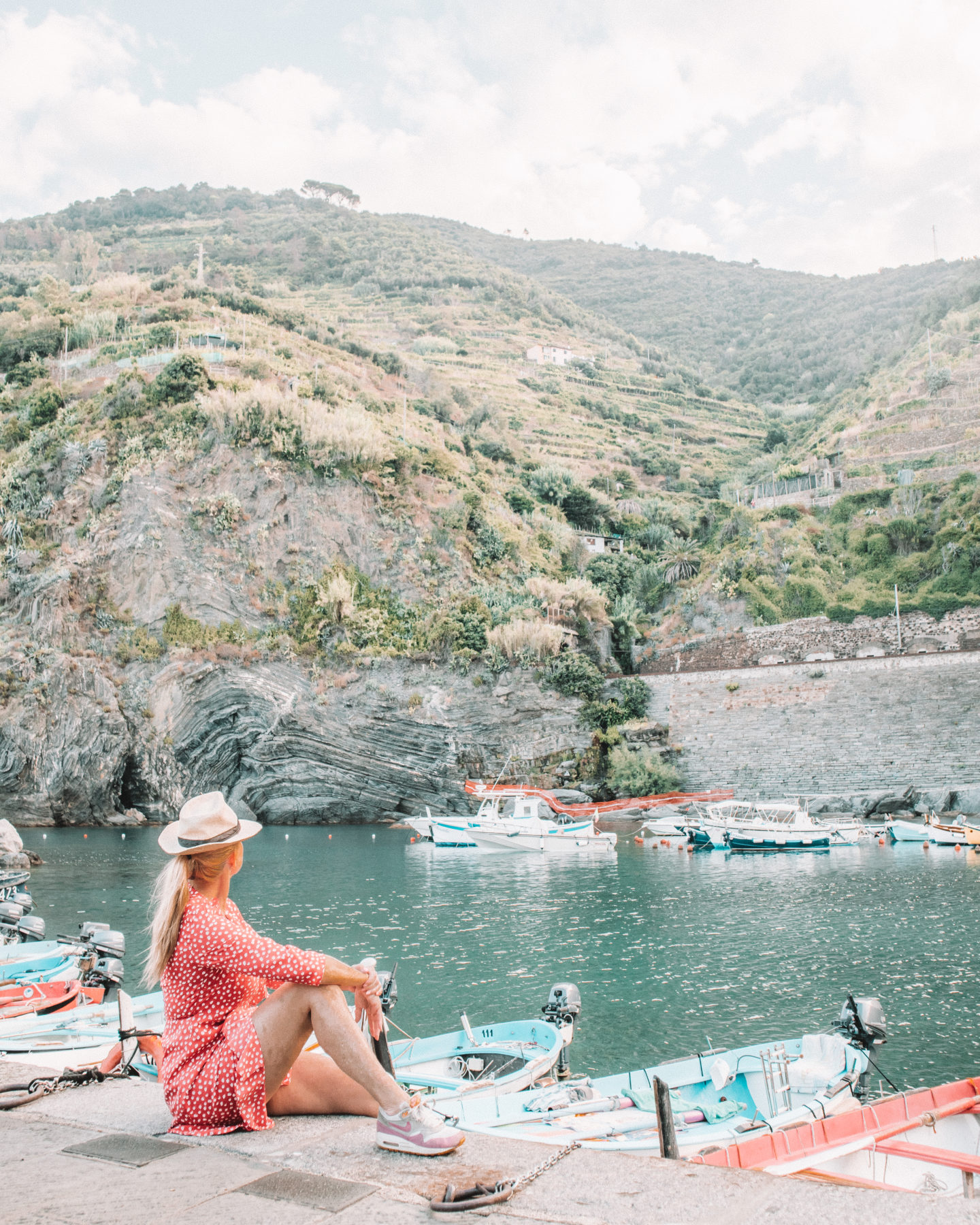 I love the atmosphere in this village and the locals are very friendly and nice. One old man showed me the way where to start the hike. I love to connect with locals, it's the beauty of being a traveler!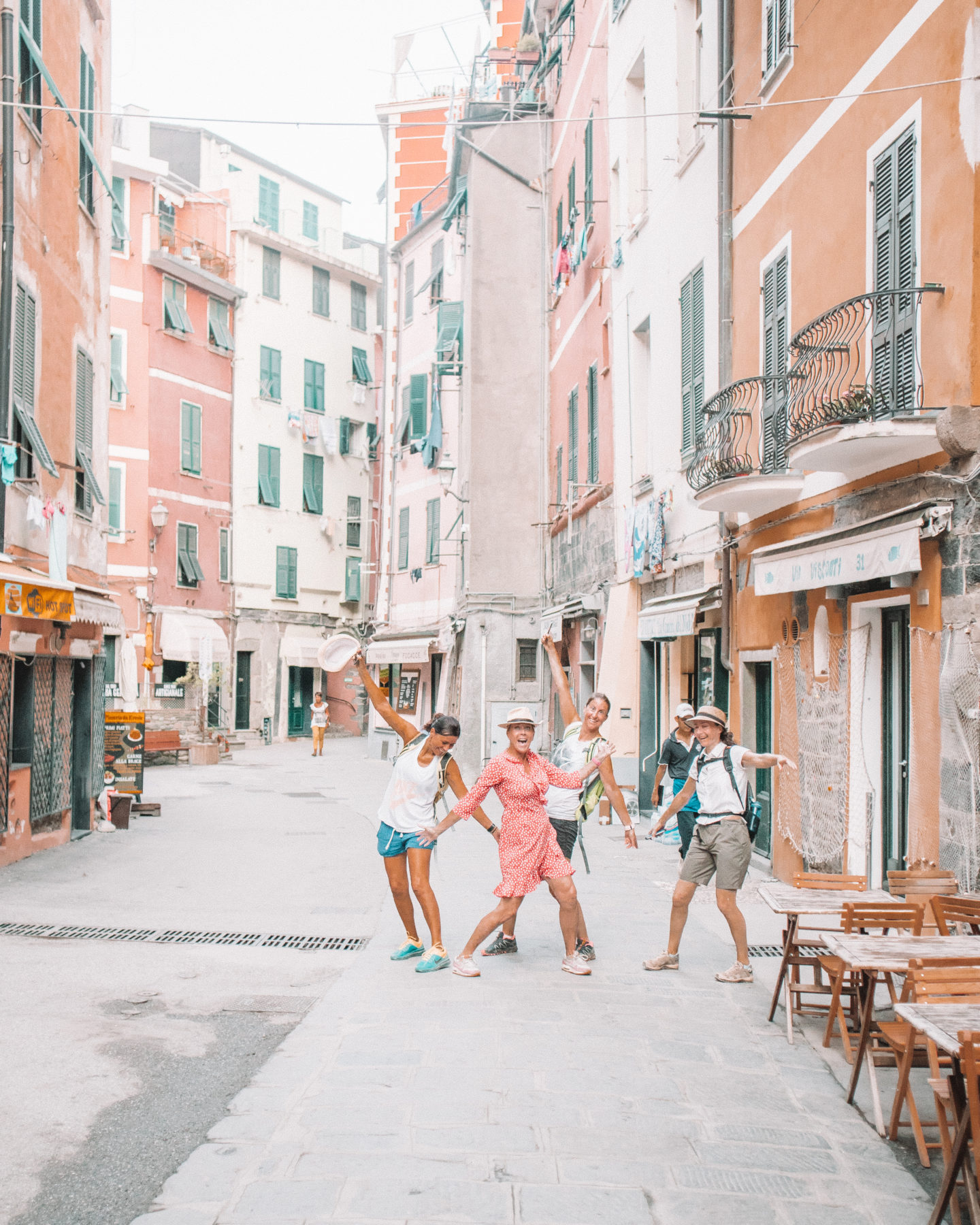 I met so many amazing people during this trip! It's one of my most memorable trips ever and I have done many. I traveled solo to Cinque Terre and there were many who did the same! So don't hesitate if you want to visit you will meet some awesome people on the road like these girls from Canada!
This is the mainstreet in Vernazza or should I say the only way in Vernazza 🙂 it will lead you down to the port.
Where to stay!
Like in Riomaggiore there are several Airbnb in Riomaggiore to choose from and a few cute hotels.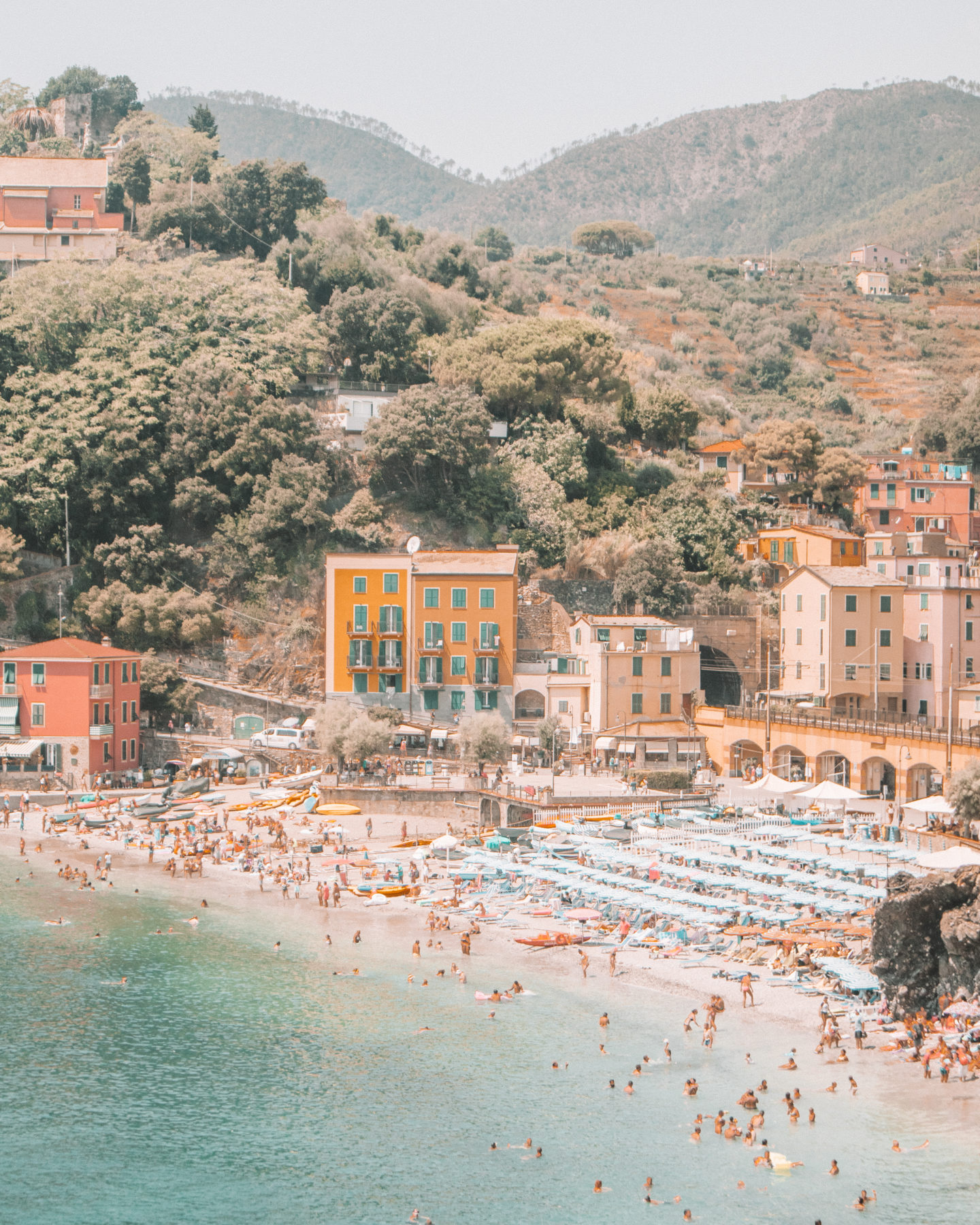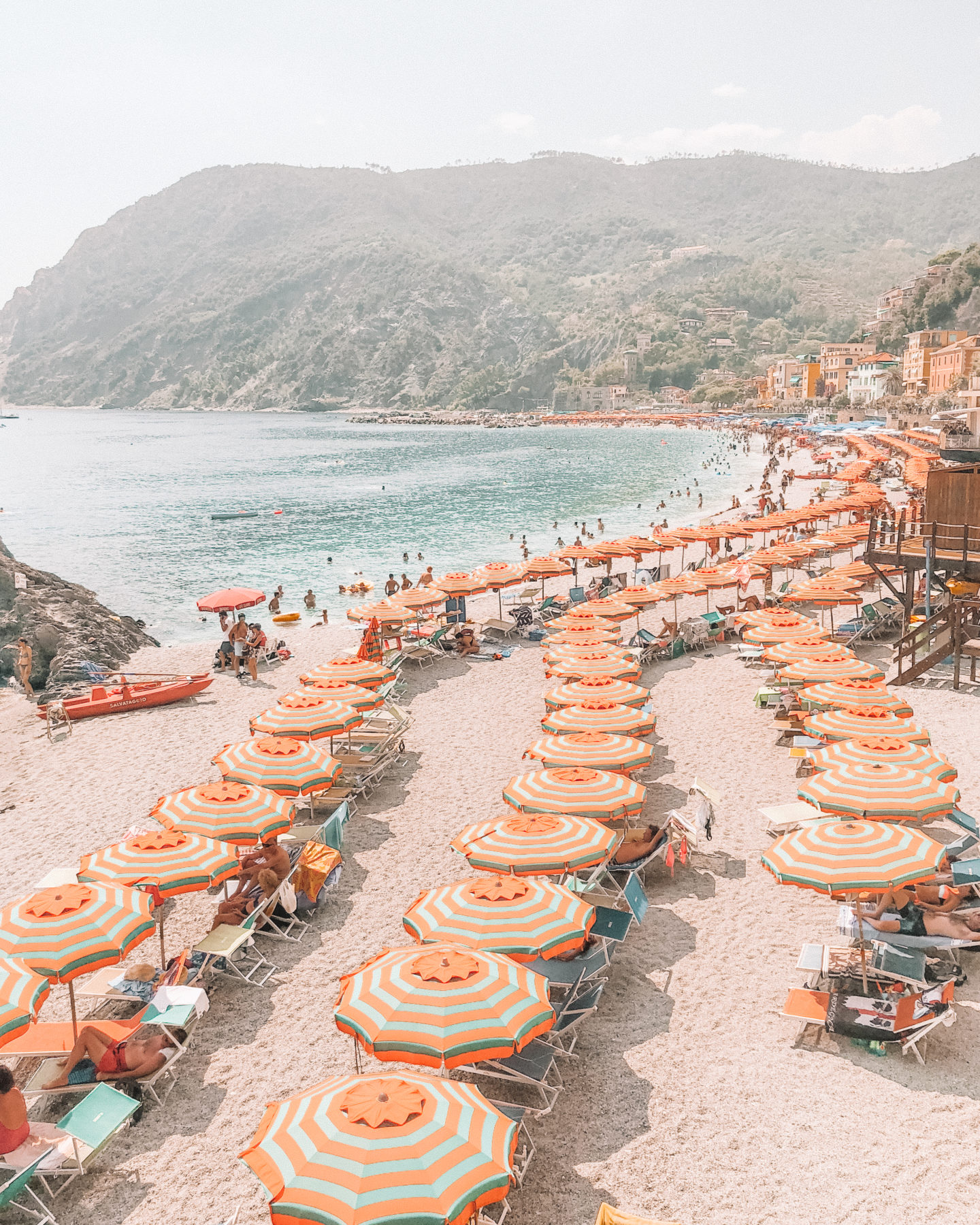 Monterosso al Mare!
This is the largest village of the five. It has the widest streets and longest and finest beaches. It's a good choice for the family. Not surrounded by as steep mountains as the other villages. Feels more like an ordinary Italian seaside resort. Here you will find the famous orange umbrellas!
It has the widest range of restaurants and accommodation. You will also be able to do some shopping if you like.
The one who seeks will find some cute alleys even in Monterosso! Just kidding you will find a lot of alleys in Monterosso al Mare but they are busy, this one was something else, I loved this cute alley it's typical italian if you ask me.
If you wonder about how I'm dressed, this was my final station after hiking all day from Manarola to Monterosso on the hottest day during this summer according to the locals! lol I had a bikini under my top and dived in to the water after 4 hours of hiking, it felt magical.
Where to stay!
You will find several accommodations in Monterosso al Mare and also some Airbnb.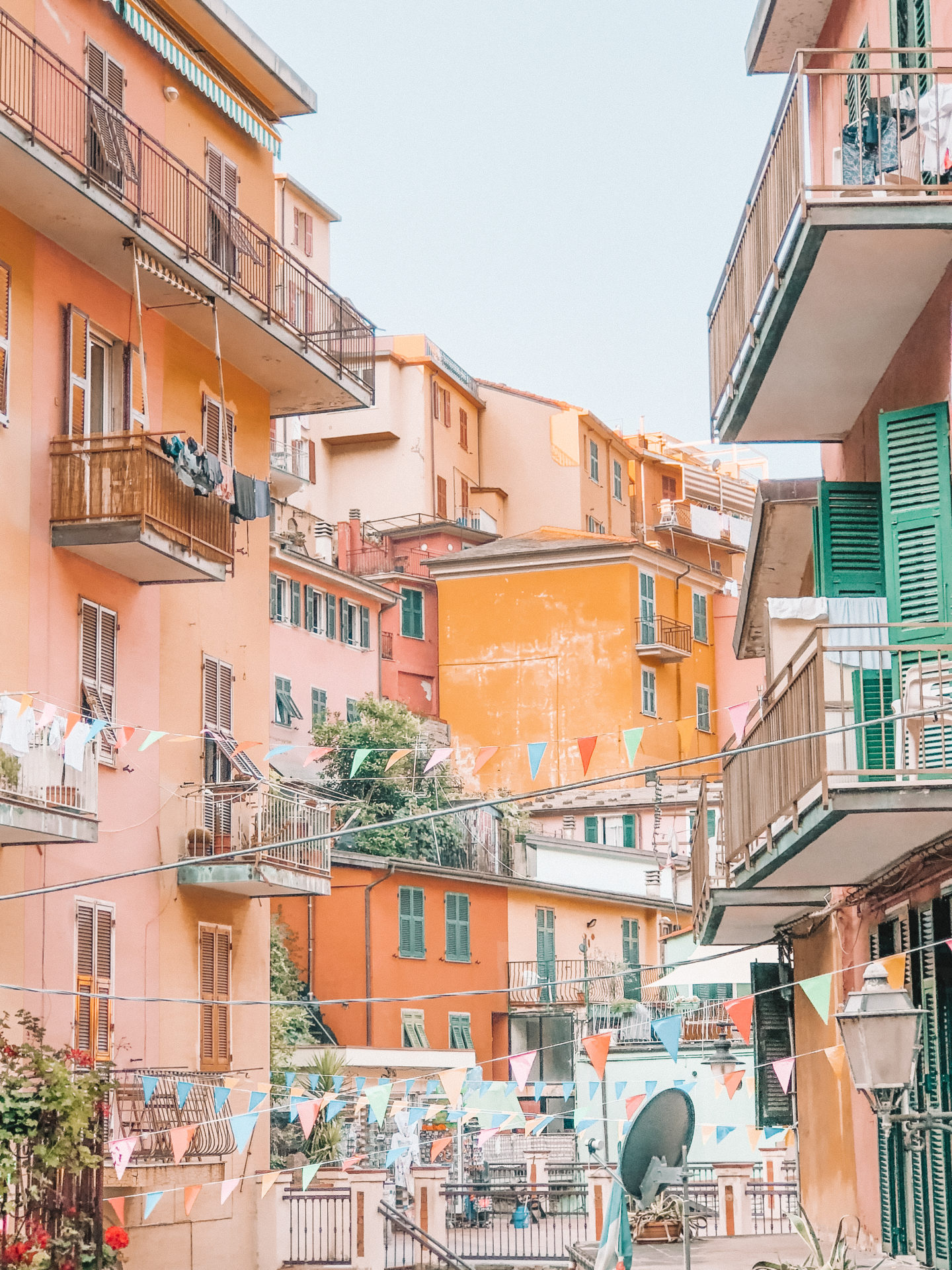 Summary!
I hope this article has inspired you to visit this amazing place called Cinque Terre! I promise that you want be dissapointed.
To avoid the crowds I suggest that you go here preseason or later during the autumn.
Cinque Terre I will be back! xoxo